France: government introduces shorter waiting time for booster jabs, new measures
Comments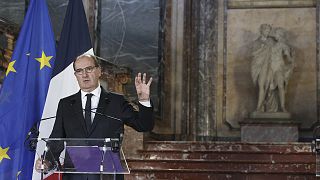 -
The delay before receiving a booster jab in France was brought down from four to three months, the government has announced among a raft of measures to curb the impact of the Omicron variant.
However, there will be no curfew for New Year's Eve.
The measures were announced by prime minister Jean Castex on Monday following an exceptional cabinet meeting as the country experiences record numbers of positive cases and hospitalisations.
Cafes and bars will only be allowed to serve seated customers for three weeks starting on 3 January.
"We are prohibiting standing concerts, and the consumption of food and drinks will be prohibited in all cinemas, theatres, sports facilities and public transportation, including long-distance trips," Castex added.
"The use of remote working will be compulsory, and I mean compulsory, in all companies and for all employees for whom it is possible," the PM insisted, with a minimum of three days a week at home, and four wherever possible.
Gatherings have also been limited to 2,000 people indoors and 5,000 outdoors, and face masks must be worn in city centres.
Schools will reopen from the end-of-year holidays as scheduled on January 3 and political rallies will not be affected by the new rules for democratic reasons ahead of the presidential election in April.
New rules on self-isolation for patients and their contacts will be introduced by the end of the week as the further information of Omicron "will lead us (...) to adjust our doctrine on the duration of isolation".
Currently, contacts of those who tested positive living in the same household can be asked to self-isolate for up to 17 days which might see hundreds of thousands of people forced to stay at home.
France recorded more than 104,000 daily new infections on December 25 — a new record for the country and the first time the 100,000 threshold has been surpassed — while more than 16,000 people are currently hospitalised for COVID-19.
The 3,000 ICU case limit set by health officials has also been surpassed, with about 3,300 patients currently receiving treatment in ICU units across the country.