Scholz, Polish prime minister discuss migration, energy, and EU
Comments
By Euronews with AP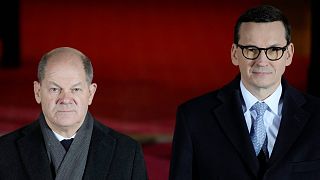 -
Copyright

Czarek Sokolowski/AP Photo
German Chancellor Olaf Scholz met with Polish Prime Minister Mateusz Morawiecki to speak about migration, energy and the EU.
Scholz was greeted by Morawiecki, with military honours, in front of the Polish prime minister's office in his latest European trips after being sworn in as Germany's new chancellor last week — he visited Paris and Brussels on Friday.
The new German leader stressed once more during a joint press conference that Europe won't tolerate attempts at undermining the territorial integrity of its nations.
"We're watching the troop movements along the Ukrainian border with great concern, and we are making it very, very clear that the borders in Europe cannot be violated and that we consider the integrity of the borders of countries to be inviolable — and that no one should think that they could simply be violated without serious consequences," Scholz said.
Scholz said the Belarus government of President Alexander Lukashenko's apparent pushing of Middle East migrants at Poland's and EU's eastern border is "inhumane" and a "major current challenge" that Europe has the "duty to reject."
He vowed solidarity with Poland "against this inappropriate manner of hybrid warfare. Poland has sealed the border with Belarus to prevent thousands of illegal crossings into the EU.
Among the other topics discussed between the two leaders was Poland's dispute with the European Commission over rule of law.
The three pro-European parties in the German coalition stated in their power-sharing agreement that they would "urge the Commission...to use the existing rule-of-law instruments more consistently and in a timely manner."
Scholz underlined during his meeting with Morawiecki that the 27-nation bloc is united by the principles of democracy.
"It would also be very good and helpful," he said, if the continuing discussions "could soon lead to a very good, pragmatic solution," and the EU "would therefore continue to be bound by these principles of democracy and the rule of law."
Morawiecki said he briefed Scholz on Poland's proposals for solving the standoff.
The European Commission is withholding pandemic recovery funds from Poland saying the government's policies erode judicial independence there.
On energy, Poland repeated its opposition to the Nord Stream 2 pipeline set to carry natural gas from Russia to Germany, saying it makes Europe dependent on Russian deliveries and would allow Moscow to up pressure on Ukraine. 
Scholz insisted the pipeline was a purely energy project whose role will be diminishing with the development of renewable energy sources in Germany. Germany's regulator has suspended the approval procedure for the completed pipeline because of legal issues.
Germany's new foreign minister Annalena Baerbock expressed support for Poland when she was in Warsaw on Friday.
She also called for humanitarian treatment of the migrants stuck at the border.
Poland and the EU say the government of Belarusian President Aleksander Lukashenko is seeking to destabilise the bloc by encouraging migration into its countries.