The 2021 Abu Dhabi Grand Slam gets under way
Comments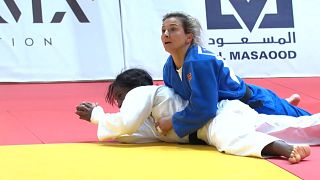 Copyright

International Judo Federation
The United Arab Emirates welcomed back one of its annual sporting highlights as the Jiu-Jitsu Arena saw the first day of the 2021 Abu Dhabi Grand Slam, which was filled with some of Judo's biggest names.
Rising star Assunta Scutto was in the under 48kg. This year's Junior World Champion took her first senior title, catching Sharine Boukli of France after a barrage of o-uchi attacks.
His Excellency Mohamed Bin Thaeloub Alderee, Chairman of the UAE Wrestling and Judo Federation, awarded the medals.
Our man of the day was Olympic Silver Medallist Yang Yung Wei, who was clearly in Abu Dhabi to prove he could take Gold. A rapid dropping throw in the final of the under 60kg category, amazingly saw him take his first-ever World Tour Gold Medal. A passionate display of emotion clearly showed what this result meant to him.
Mr Timur Kulibayev, President of the Kazakhstan Olympic Committee was on hand to award the medals.
"This competition gives me great confidence, and I will continue to work hard towards each big competition with the gold medal as my goal"
In the under 52kg class, Olympic Silver medallist Amandine Buchard of France was on fire all day, her speciality kata-guruma the highlight of her route to the final.
Former President of Mongolia, and President of the Mongolian Judo Association, Mr Battulga Khaltmaa awarded the medals.
Moldova's Vieru was victorious in the under 66kg with a win via penalties in Golden score.
Mr Raja Sapta Oktohari, the President of the National Olympic Committee of Indonesia, awarded the medals.
One of the top competing greats in Judo, five times World Medallist Telma Monteiro was on great form.
In the final of the under 57kg category she released a relentless assault of attacks against Astride Gneto of France, scoring the decisive Waza-ari and making her our Woman of the Day.
The 5x Olympian looks set on making her way to an almost unbelievable 6th Olympics.
She was awarded her medals by Mr Max-Hervé George, CEO of Ultima Capital, Partner of the IJF.
"I told her that I love her judo, I think like when we are inside of the tatami we have to give our best and every one of us has one story behind. So I have a lot of respect for my opponents. I think like when we give our best, it's respect and the fight finishes and we go to our family we go to our team, friends and it's another moment so we have to respect no matter what."
The Move of the day was by the Mongolian bronze medallist Yondonperenlei Bashkuu, a technically brilliant adjustment enabled him to score this emphatic Ippon.
A fine example of the instinctive style so typical of the Mongolian athletes.
A fantastic start to the last competition of the year, here in Abu Dhabi.