Norway's left-wing opposition wins general election, PM Solberg concedes
Comments
By Euronews with AFP, AP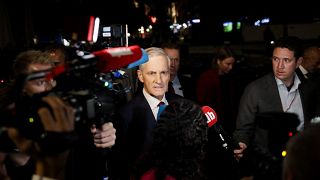 -
Copyright

Javad Parsa / NTB / AFP
The left-wing opposition in Norway has won the country's general election, preliminary results show.
Early results indicate the end of the centre-right government's eight-year rule under Prime Minister Erna Solberg, following a campaign dominated by the future of the oil industry.
With a projection based on a preliminary count of nearly 93% of the votes, the Labour Party and its two allies — the Socialist Left and the euroskeptic Centre Party — would hold 100 seats in the 169-seat Stortinget assembly while the current government would get 68. One seat was still unsure.
This indicates Solberg is set to be ousted by a left-wing coalition headed by Jonas Gahr Støre, a millionaire ally of former prime minister and now NATO secretary-general Jens Stoltenberg.
"We have waited, we have hoped and worked so hard. And now we can finally say, we did it," Gahr Stoere said on election night before cheering party members.
"The parties that have said they want a new government and a new way for the country seem to have a large majority," he said.
Opinion polls in the run-up to the vote predicted the election would be a setback for the incumbent Conservative government.
"We knew we needed a miracle ... the Conservatives' work session is over," Solberg said. She congratulated Stoere on "what now looks like a clear majority."
Her Conservatives suffered a setback, losing 4.7 percentage points which was dubbed by Norwegian broadcaster NRK as "the election's biggest loser." Its former coalition partner, the Progress Party lost 3.4 percentage points, according to a preliminary counting of more than 93% of the votes by Norway's election commission.
As Norwegians turned out to cast their ballots across the country, fears about climate change put the future of the oil and gas industry at the top of the campaign agenda.
Solberg's conservatives and the Labour opposition both advocate for a gradual move away from the fossil fuels that continue to underpin the economy.
The larger parties rarely rule alone in Norway; smaller players are usually required to build a majority coalition, and they can have an outsize influence on the government agenda.
Negotiations to form a coalition government are likely to be long and delicate.
Some, like the Greens, are demanding a more radical severing with the country's dominant industry and income stream.
Støre — a 61-year-old millionaire who campaigned against social inequality — had rejected this, and a parliamentary majority would strengthen his stance.
The Socialist Left won't offer its support lightly and the Centre Party is also demanding a more aggressive approach toward shifting to renewable energy.
The Centre Party made the largest gains in the election by grabbing nearly 14% of the votes — a 3.6 percentage point hike — with its leader Trygve Slagsvold Vedum, a farmer-turned-politician, noting with a large smile that it had become the third-largest group in Stortinget after Labour and the Conservatives.