G20 greenlights global corporate tax rate of at least 15% to stop 'race to the bottom'
Comments
By Euronews with AP, AFP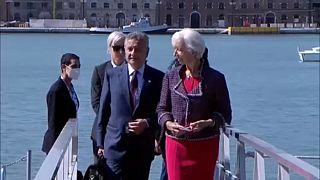 G20 finance ministers on Saturday approved a tax reform for multinationals that aims to put an end to tax havens, paving the way for a big tax bang that should be in place by 2023. 
The proposal to introduce a global corporate tax rate of at 15% has now been approved by more than 130 countries. 
France's Finance Minister Bruno Le Maire described the agreement as a "victory".
"We are putting an end to tax optimisation and the digital giants will finally pay their fair share of tax. This is the biggest tax revolution in a century," he added on Twitter.
His American counterpart, Janet Yellen, said the deal shows "the world is ready to end the global race to the bottom on corporate taxation," 
"The world should now move quickly to finalise the deal," she went on. 
The German Finance Minister, Olaf Scholz, had said prior to the start of the meeting in Venice, Italy, that it was "a historic moment".
The G20 is made up of Argentina, Australia, Brazil, Canada, China, France, Germany, Japan, India, Indonesia, Italy, Mexico, Russia, South Africa, Saudi Arabia, South Korea, Turkey, the UK, the US, and the EU. Spain is also invited as a permanent guest.
Together, they account for 60% of the world's population and represent more than 80% of the global Gross Domestic Product and 75% of global trade.
On Friday, a G20 High-Level Independent Panel said that the world must invest much more to avoid a repeat of the COVID-19 pandemic.
It warned the next health crisis could arrive within a decade and recommended governments increase finances by at least €63 billion over the next five years.
Meanwhile, around 20 activists urged governments to remember the importance of saving the planet. They sat in the middle of bridges, streets, and squares of Venice, calling on world leaders to decarbonise the global economy.