Greece hit by strikes as parliament set to approve controversial labour law reform
Comments
By Euronews with AP, AFP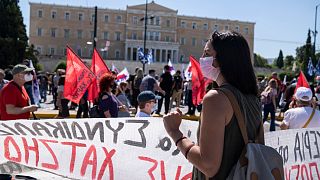 -
Copyright

AP Photo/Petros Giannakouris
Greece's parliament is set to approve a controversial labour reform despite widespread strikes.
Public transport staff in Athens downed tools on Wednesday for the second consecutive week to protest against the draft bill.
Ferry services to the Greek islands were also brought to a standstill for 24 hours, while several other public services were closed.
The Greek government says the new law will introduce the possibility of flexible working hours, allowing for a 10-hour day, as well as rules on teleworking.
The bill also aims to prevent sexual harassment in the workplace and improve the conditions for parental leave, it added. 
But trade unions have described the draft law as a "monstrosity", which they say will deny workers the right to strike.
The new law aims to impose a minimum service in public services in the event of a strike and to make trade unions criminally liable, with the introduction of fines, in the event of a service interruption.
Opponents of the proposals say the reform weakens collective bargaining and legalises the long working hours imposed by employers, particularly in large companies, over many years.
The main opposition Syriza party has also accused the government of using coronavirus lockdowns as an excuse to erode the legal protections for employees.
Last Thursday, around 16,000 people took part in various rallies in Athens and Thessaloniki, Greece's second-largest city.
A demonstration is planned in front of the Parliament on Wednesday as the bill is voted on.