Diverting flight was 'huge mistake' by Belarus regime, Tsikhanouskaya tells Euronews
Comments
By Euronews with AP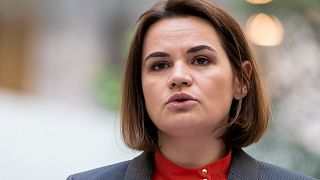 -
Copyright

AP Photo/Mindaugas Kulbis
Belarus forced diversion of a plane to arrest a journalist was "a huge mistake" by the regime because it brought attention back to the country's political crisis, opposition leader Sviatlana Tsikhanouskaya told Euronews.
Belarusian authorities on Sunday diverted a Ryanair flight from Athens to Vilnius as it was flying in its airspace. Roman Pratasevich, a journalist, and his girlfriend were both arrested.
Speaking to Euronews on Tuesday evening, Tsikhanouskaya said it was "a huge mistake that he [President Alexander Lukashenko] involved the passengers of other countries into this accident because he rose awareness about this situation in Belarus."
"You have to look at this very situation not separately from overall political situation in Belarus because we have political and humanitarian crises. People are still being tortured and what we have seen with this flight is the result of impunity of regime."
"Since December, there were not strong events or conferences or strong steps from democratic countries towards the regime and he felt that he can do everything he wants," she added.
Tsikhanouskaya was on same flight path a week before
She also described herself as "shocked" over the incident, explaining that she had been on that exact same flight a week earlier.
"I also could be in the same situation. And we couldn't even imagine, we didn't take care about hiring security because we couldn't imagine that this is possible that a third country can force to land a flight just in the middle of its flight, deliberately," she said.
Western countries have strongly condemned the Belarusian regime over the incident with the European Union unveiling new sanctions on Tuesday and banning the country's airlines from using the bloc's airspace and airports. Western airlines have meanwhile avoided flying over Belarus.
The United Nations Security Council is to meet on Wednesday to discuss the situation.
Minsk has for its part rejected the condemnation, arguing it respected international law. The authorities have said they diverted the plane over a bomb threat.
Lukashenko doubled down on this claim on Wednesday, affirming: "I acted in a lawful way, protecting people in line with international rules."
"I had to protect people, I was thinking about the country's security," he said, also criticising Western sanctions.
"Our ill-wishers outside and inside the country have changed their methods of attacking the state. That's why they switched from organising riots to trying to strangle us."
He also said Belarus would respond by weakening border controls, saying: "We were stopping migrants and drugs — now you will catch them and eat them yourself."
Prime Minister Roman Golovchenko also warned that the country could halt Western cargo shipments via Belarus.
"Our measures would be quite painful for the countries that have taken an openly hostile stance — from import bans to restrictions on transit."
Belarus has been backed by Russia, a permanent member of the UN's Security Council, which has described the Western countries' reaction to the incident as "shocking" and accused them of hypocrisy.
Pratasevich denied access to lawyer
Pratasevich, 26, appeared in a video released by the Belarusian regime on Monday he which he says he is cooperating with investigators and is "confessing to organising mass disturbances in Minsk."
The journalist is the founder of a message app channel in Belarus seen as key to the massive mobilisation against Lukashenko following the August presidential election ruled fraudulent by the West.
His parents have said they are confident that physical and psychological pressure was used against their son while in custody.
Tsikhanouskaya also alleged violence was used to coerce Pratasevich into admitting guilt, telling Euronews: "These videos are the result of pressure, physical or moral and we see that Roman's face is bruised, behind the make-up but still his nose is broken and his skin is blue so evidently he was tortured and beaten."
The Viasna Human Rights Centre said on Tuesday evening that Pratasevich's lawyer had been unable to see her client.
The dramatic arrest came just days after police and prosecutors raided the offices of Tut.by — an independent Belarusian news website — as well as the homes of journalists and editors. Several were detained. A journalist who covered the raids was meanwhile jailed for 15 days.