Global climate summit: US targets 50% emissions cut by 2030
Comments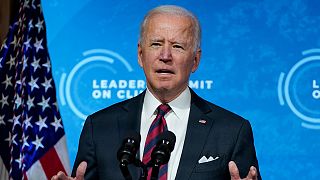 -
Copyright

AP Photo/Manuel Balce Ceneta
The global community is faced with an "extraordinary" opportunity to take decisive action on the climate crisis, US President Joe Biden said on Thursday as he gathered world leaders from 40 countries for a two-day virtual climate summit.
The talks, which coincide with Earth Day, come after Biden rejoined the Paris climate agreement in February, reversing former President Donald Trump's withdrawal and marking a new chapter in the global fight to combat climate change.
They also began as the Biden administration announced a new target in reducing US greenhouse gas emissions - at least a 50% cut by 2030, compared to 2005 levels.
"The science is undeniable," Biden said of the realities of climate change. Meanwhile, the "cost of inaction keeps mounting," he said.
'A decisive decade'
Having the US back in the climate talks is "hugely significant," Heather Alberro, professor of environmental politics at Nottingham Trent University, told Euronews.
But the US "remains a major economy with a significant carbon footprint," Alberro added, and it is being pushed by "social movements" for an even higher reduction - "at least 70%".
While Biden has not yet set his sights quite so high, he said the years ahead will mark a "decisive decade".
The world is at a "moment of peril," he said, but the president said it should also be seen as a "moment of extraordinary possibility" to push towards and redefine goals in the bid to address the climate crisis.
"Time is short, but I believe we can do this, and I believe we will do this," he said.
Leaders signal commitment to the climate fight
Leaders from around the world, including Chinese leader Xi Jinping and Russian President Vladimir Putin, appeared to agree, championing the need to address climate change, while highlighting their own commitments to tackling the crisis.
Speaking early on in the event, Xi called on the international community to "be committed to harmony between man and nature".
"Mother nature has nourished us, we must treat nature as our root," he said. "Respect it. Protect it. Follow its laws."
He also said countries must be committed to green development, asserting that "green mountains are gold mountains".
Earlier this month, US climate envoy John Kerry struck an agreement with his Chinese counterpart Xie Zhenhua to work with other countries to address the climate crisis.
The two nations, which are the world's two biggest polluters, came to the agreement during talks in Shanghai.
In a joint statement, they said: "The United States and China are committed to cooperating with each other and with other countries to tackle the climate crisis, which must be addressed with the seriousness and urgency that it demands."
India's Prime Minister Narendra Modi told participants that his country, the world's third emitter of fossil fuel fumes, is also "doing our part" to address the climate crisis.
"We have taken many bold steps," he said. However, he said, India would also welcome international partners on promoting sustainable development in India.
Meanwhile, Putin said that whether the global effort to address the climate crisis "proves successful will largely determine the future of our planet".
He said Russia treats its "international commitments with the utmost responsibility on this sphere".
He further said the country is committed to "significantly reducing the net accumulated emissions in our country by 2050," adding: "I'm confident that despite Russia's size, its geography, climate and economic structure, this task is achievable."
'2030 is the new 2050'
As countries sought to emphasise their contributions to the climate fight, it quickly became apparent that the once oft-touted goal of achieving net-zero emissions by 2050 has lost its shine in recent years, given the glaring realities of the crisis.
"We need to move more quickly to implement commitments for 2030," French President Emmanuel Macron said.
"Basically, 2030 is the new 2050," he said, as he touted the European Union's pledge to cut emissions by 55 per cent by 2030.
Japanese Prime Minister Yoshihide Suga said his country was also "accelerating" its efforts to address the climate crisis and meet expedited goals.
The prime minister noted how after assuming office, he had outlined the target of achieving "net-zero by 2050" and said, "we will take a big step towards the resolution of this global issue".
'Make or break' decade
World leaders appeared to be in agreement that the next decade will be critical in addressing the climate crisis, with European Commission President Ursula Von Der Leyen calling it a "make or break" decade.
German Chancellor Angela Merkel agreed, asserting that the bid to tackle the climate crisis was a "Herculean task" which will require a "complete transformation of the way we do business and the way we work".
For Germany's part, she said the country "has already reduced its emission by 40[%] compared to 1990. And the European Union will be neutral by 2050".
More than a 'green act'
On the same day of the talks, climate activist Greta Thunberg addressed the US Congress, calling on lawmakers to use their common sense on climate change.
"All I can do is to urge you to listen to and act on the science, and to use your common sense," she said.
But even as she called for drastic changes, Thunberg expressed doubt in those in power, telling lawmakers: "To be honest, I don't believe for a second that you will actually do this."
"How long do you honestly believe that people in power like you will get away with it?" she said.
However, at the climate summit, world leaders insisted that their commitments represent more than a "green act".
Delivering comments at the summit, British Prime Minister Boris Johnson said the promises made at the summit should "show that this is not all about some expensive, politically correct green act of bunny hugging".
He further said he believed that combating climate change is also important to "growth and jobs".
Johnson was one of several world leaders to also suggest that with the coronavirus pandemic forcing much of the world to take pause, as countries seek to reopen and rebuild their economies, they can "build back better" by "building back greener".
Noting that the UK has been able to cut CO2 emissions by about 42 per cent on 1990 levels and see its economy "grow by 73%", the British prime minister said: "You can do both at once".
A 'shared challenge'
During his own statements at the climate summit's opening, Secretary of State Antony Blinken said he hoped that countries could explore "every possible avenue of cooperation on climate".
"If we work together we can do more than just address this crisis," he said, asserting that cooperation on climate could "lay the foundation for cooperation on other shared challenges".
"There are many issues on which we don't all see eye-to-eye," he acknowledged. However, he said: "This isn't one of them. No matter what country we're from we know the world we want to pass on to our children and our grandchildren. I can think of no better or more urgent cause to bring us together."
The Biden-led summit will undoubtedly set the tone for the upcoming 26th UN Climate Change Conference, COP26, which takes place in November in Glasgow, Scotland, with the US government asserting that a key focus of the talks will be the "urgent need for the world's major economies to strengthen their climate ambition by the time of COP26".