Russia says buildup at Ukraine border is a response to NATO 'threats'
Comments
By Euronews with AFP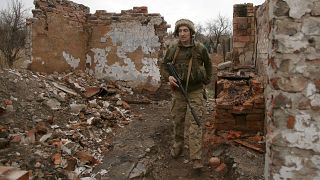 -
Copyright

STR/AFP or licensors
Russia's defence minister has claimed the country's military buildup near Ukraine is a response to what he described as threats from NATO.
Speaking during a visit to a naval base in Gadzhiyevo, Russia on Tuesday, Sergei Shoigu said the deployment in western Russia was part of readiness drills that would continue for two weeks.
In the past three weeks, the Russian military has deployed two armies and three airborne formations to western regions in a move that has worried Ukraine.
It has also provoked the ire of NATO chief Jens Stoltenberg, who described the deployment as "unjustified, unexplained and deeply concerning" earlier on Tuesday.
Shoigu said the Russian exercise was provoked by what he said were efforts by the United States and its NATO allies to beef up their forces near Russia's borders, "threatening" Russia. "The troops have shown their full readiness to fulfil tasks to ensure the country's security," he said.
Russia-baсked separatists and Ukrainian forces have been locked in a conflict in eastern Ukraine since Moscow's 2014 annexation of Crimea.
Also on Tuesday, the White House said US President Joe Biden had voiced concern over the Russian buildup and "called on Russia to de-escalate tensions" during a phone call with Russian President Vladimir Putin.
Both US Secretary of State Antony Blinken and NATO Secretary-General Jens Stoltenberg were in Brussels on Tuesday for NATO talks. In separate discussions with Ukraine's foreign minister, both expressed strong support for Ukraine.
"Russia has moved thousands of combat troops to Ukraine's borders, the largest massing of Russian troops since the illegal annexation of Crimea in 2014," said Stoltenberg during a news conference. "Over the last days, several Ukrainian soldiers have been killed in eastern Ukraine.
"Russia must end this military buildup in and around Ukraine, stop its provocations and de-escalate immediately."
Amid the recent tensions, the US has also notified Turkey that two US warships will sail to the Black Sea on April 14 and April 15 and stay there until May 4 and May 5. The US Navy ships have made regular visits to the Black Sea in past years, vexing Moscow.
Russian Deputy Foreign Minister Sergei Ryabkov denounced the latest deployment as "openly provocative," adding: "American ships have absolutely nothing to do near our shores."
"They are testing our strength and playing on our nerves," Ryabkov said in remarks carried by Russian news agencies. "Seeing itself as the Queen of the Seas, the US should realize that the risks of various incidents are very high. We warn the US that it should stay away from Crimea and our Black Sea coast for its own benefit."
G7 calls on Russia to 'cease provocations'
Late on Monday, The G7 group of countries also called on Russia to "cease provocations".
The foreign ministers of the G7 - Canada, France, Germany, Italy, Japan, the UK, and the US, plus the High Representative of the European Union - said they were "deeply concerned" about the military build-up, and urged Russia to "cease its provocations and to immediately de-escalate tensions".
Euronews journalists recently visited Mayorsk, rwhere Ukrainian soldiers reported an increase in fighting and the deaths of four people from their army nearby in shelling a week ago.
Ukraine's president, Volodymyr Zelenskyy, says 26 Ukrainian soldiers have died this year.
Ukraine has accused Russia of massing more than 80,000 troops near its eastern border and in Crimea, which Moscow annexed in 2014.
According to Kyiv, the pro-Russian separatists also have 28,000 fighters and more than 2,000 Russian military advisers and instructors in the territory they have controlled since 2014 in the east of the country.
"These large-scale troop movements, without prior notification, represent threatening and destabilising activities," said the G7 foreign ministers in a statement.
"We reaffirm our unwavering support for the independence, sovereignty and territorial integrity of Ukraine within its internationally recognised borders," the statement added.
The US warned Moscow on Sunday against any aggression in Ukraine.
"There will be consequences," said Blinken.
Listen to Euronews' interview with Bruno Lété of the German Marshall Fund by clicking on the media player above.