Iran blames Israel for nuclear site sabotage and vows revenge
Comments
By Euronews with AP, AFP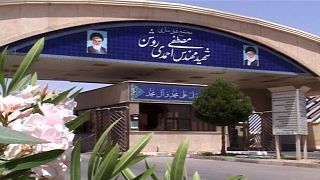 Copyright

AFP PHOTO / HO / ATOMIC ENERGY ORGANIZATION OF IRAN
Iran has promised revenge following a cyberattack against its main nuclear site, south of Tehran.
Iranian authorities say Israel is responsible for the attack which has been described as an act of "nuclear terrorism," raising regional tensions as negotiations with world powers continue to salvage the 2015 nuclear deal.
The Natanz nuclear site lost power on Sunday just hours after starting up advanced new facilities to speed up the enrichment of uranium.
On Monday, Foreign Ministry spokesman Saeed Khatibzadeh levelled the first official accusation that Israel was behind the incident.
Israel has not directly claimed responsibility for the attack. But Israeli media speculated that Sunday's power outage at the plant was the result of a cyberattack orchestrated by the country, without offering proof nor source.
Israeli Prime Minister Benjamin Netanyahu, who met Sunday with US Defense Secretary Lloyd Austin, has vowed to do everything in his power to stop the nuclear deal.
Austin for his part declined on Monday to say whether the incident could impede the Biden administration's efforts to re-engage with Iran over the deal.
Speaking at a news conference at Israel's Nevatim air base, he said "those efforts will continue".
"I really don't have anything to add on Natanz. In terms of, you know, our efforts to engage Iran in diplomacy on the JCPOA, those efforts will continue. And I'm very obviously supportive of the president's efforts to negotiate a way ahead there. And I'll just leave it at that."
Germany's foreign minister Heiko Maas said on Monday the Natanz incident was "not a positive contribution" to ongoing talks.
Iranian Foreign Minister Mohammad Javad Zarif warned Natanz would be reconstructed with more advanced machines. That would allow Iran to more quickly enrich uranium, complicating talks on the deal.
"The Zionists wanted to take revenge against the Iranian people for their success on the path of lifting sanctions," Iran's state-run IRNA news agency quoted Zarif as saying. "But we do not allow (it), and we will take revenge for this action against the Zionists."
Incident comes amid negotiations over nuclear deal
Details remained few about what happened early Sunday morning at the facility, which initially was described as a blackout caused by the electrical grid feeding the site.
A spokesman for the country's nuclear programme said no injuries or contamination had occurred.
The news came just hours after President Hassan Rouhani inaugurated the new devices at the enrichment plant in a ceremony also broadcast on state television via a live link to engineers, who announced they had started the process.
Natanz suffered a mysterious explosion in July that authorities later described as sabotage.
Israel, Iran's regional archenemy, has been suspected of carrying out an attack there, as well as launching other assaults.
This latest incident comes as negotiations continue with world powers in Vienna to bring the United States back into the nuclear deal that Donald Trump withdrew from in 2018.
His successor Joe Biden has said he is ready to return, claiming the accord had been successful in dramatically scaling back Iran's nuclear activities.
Israel and Western nations fear that Iran is trying to develop nuclear weapons.