Russia extends slowdown of Twitter in crackdown on social media dissent
Comments
By Euronews with AP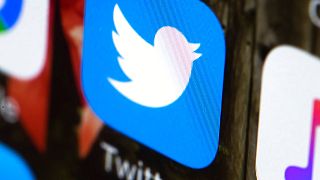 -
Copyright

AP Photo/Matt Rourke
Russia communications watchdog has confirmed that the "slowdown" of Twitter in the country will be extended until May.
Moscow has accused the social network of failing to delete "illegal" content from its platform and had threatened to block Twitter to Russian users.
In March, Roskomnadzor first announced that Twitter would be slowed down for failing to remove content on drugs, incitement to suicide, and child pornography since 2017.
Social media users in Russia have since reported difficulties or delays in uploading photos and videos to Twitter.
But in a statement on Monday, the internet watchdog acknowledged that Twitter had begun deleting banned posts, and said they were not considering blocking the platform for now.
However, the authority did state that "the limitation of Twitter traffic" would be extended until 15 May, until the social network had deleted all "illegal" content.
"Twitter is given additional time to remove all prohibited content from the social network and bring its activities in full compliance with the laws of our country," the watchdog said.
The announcement came after a video conference on April 1 between Roskomnadzor officials and Sinead McSweeney, Twitter's vice president of public policy in Europe, the Middle East, and Africa.
"After the adoption of measures... the social network has removed about 1,900 of 3,100 materials," the watchdog added.
On average, Twitter was reportedly removing illegal content within 81 hours of receiving a request, but still much longer than the 24 hours demanded by Russian law.
Twitter has reiterated that it has a "zero-tolerance policy on sexual exploitation of children" and prohibits the promotion of suicide or self-harm.
The platform has also expressed concerns over the slowdown of their speed, describing it as an attempt to "strangle public conversation online".
Twitter fined over pro-Navalny content
Russian authorities have accused big tech companies of failing to delete posts that Moscow said illegally urged children to take part in anti-Kremlin protests.
Last week, a court in Moscow fined Twitter 8.9 million rubles (about €99,000) for failing to popular dissent over the detention of opposition leader Alexei Navalny.
The social media giant was found guilty on three counts of violating regulations on Friday but has not yet commented on the ruling.
In recent months the Russian government has repeatedly castigated Twitter, Google, Facebook, TikTok, and Telegram for allegedly failing to delete posts urging young people to take part in banned protests.
Tens of thousands of people took to the streets across Russia in January to demand the release of Navalny, who remains behind bars despite international condemnation. Social media platforms have been instrumental in the organisation of the largest protests in Russia in years.
Russian President Vladimir Putin has urged police to act more to monitor social platforms and to track down those who "draw the children into illegal and unsanctioned street actions."
Controlling online information
Tanya Lokot, an associate professor at Dublin City University's School of Communications, says Russia has been threatening social media for a while, but authorities are now ready, willing, and able to take concrete action.
"They started issuing fines, threatening court sentences, and now they're also throttling Twitter, so Twitter is a bit slower to load currently in Russia," she told Euronews.
"Russia has built quite an infrastructure in terms of trying to preserve what they call their digital or internet sovereignty. So currently they do have the technical capability to block platforms," she added.
Over the years, Russian authorities have taken a comprehensive approach to "trying to control every sphere of online expression," she said, citing laws that mandate registration of popular bloggers and require companies to store Russian users' data on servers inside Russia.
While shutting down popular Western social media platforms in Russia might be feasible, it may not be effective in silencing opposition in the country, Lokot cautioned.
She noted that ever since Telegram was blocked in 2018, many Russians had learned how to use virtual private networks (VPN) to mask their IP address and access blocked content.
"People would still find ways to connect and mobilise and to come out to the streets," Lokot said.
Watch the interview in the video player above.