Snowstorm brings parts of Netherlands and Germany to a standstill
Comments
By AP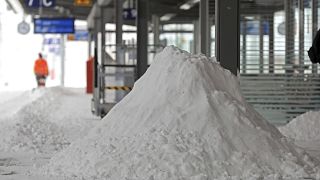 -
Copyright

Peter Gercke/(c) dpa-Zentralbild
The Netherlands and parts of Germany were hit by a huge snowstorm on Sunday, bringing parts of the countries to a standstill.
Residents of Dutch and German cities rushed outside to toboggan and play in the snow despite the -5°C temperatures.
The Dutch meteorological agency KNMI issued an extremely rare "code red" alert throughout the country, which experienced its first snowstorm in more than 10 years.
The German Weather Service DWD urged people to stay at home and authorities brought homeless people into warm shelters amid the sub-zero temperatures.
Road and rail connections were affected, amid snowfall and strong winds in the north and west of the country.
12 inches of snow
Police in the western state of North Rhine-Westphalia said early Sunday they had counted 222 accidents due to the bad weather conditions since Saturday afternoon. They said two people among the 28 were severely injured.
In the western city of Muenster, among the hardest hit places, there was so much snow on the streets that ambulances could no longer drive and all public transportation was shut down. More than 30 centimeters (almost 12 inches) of snow had fallen, piling up to 1 meter (over 3 feet) in some parts, and more snow was expected to fall on Sunday.
In Wuppertal, in western Germany, firefighters had to rescue six passengers out of the city's famous elevated railway after a train stopped moving due to the icy conditions. They had to climb up on ladders to reach the people on the train and help them down to the ground, dpa reported.
City authorities in the western town of Hagen walked through the streets at night waking up homeless people sleeping outside and taking them to shelters, the German news agency dpa reported. In Berlin, the capital's biggest shelter, a tent city on the outskirts, was cleared early Saturday to make sure people don't freeze to death in sub-zero temperatures.
Coronavirus testing centres closed
The Dutch government has closed all coronavirus testing centres for several days due to the severity of the weather, while the country is expecting to experience 10 days of negative temperatures.
Dozens of flights have been cancelled or delayed at Amsterdam's Schiphol airport, while Eindhoven airport (south) has been closed. All trains have been cancelled in the country, including those to Germany.
Trams were stopped in the capital Amsterdam, and one tram was derailed because of snow in The Hague, according to an AFP journalist.
Most parts of the Netherlands were covered on Sunday with 5 to 10cm of snow, but it was up to 30cm thick in places, according to the public television channel NOS.
More than 80 cars had gone off the road after slipping on the snow, according to the Dutch infrastructure authority, which advises motorists to avoid driving.