Pennsylvania: Why has the keystone state become the key battleground?
Comments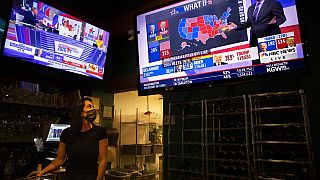 Ever since President Donald Trump carried the key swing state of Florida on November 3, the eyes of Joe Biden's campaign shifted to the battleground states of Wisconsin, Michigan and Pennsylvania.
As of Friday morning, Biden appears to have won Wisconsin and Michigan, although Trump has called for a recount in the former. But Pennsylvania still has thousands of votes to count.
Pennsylvania and its 20 electoral college votes are essential for Trump, who is currently on 214 votes in the electoral college to Biden's 264, according to the AP votecast. Trump's route to victory requires him to win nearly all the states that haven't yet been called, whereas Biden has a number of routes to the presidency still open.
Pennsylvania counted votes overnight in the US and Biden overtook Trump's lead in the keystone state on Friday, but even if it is called for the former vice-president, it may not be over. Legal cases are likely to be filed over the validity of ballots by the Trump campaign.
Both men knew long before election day that Pennsylvania would be key in this election. Trump won the state in 2016 and it was crucial to his victory over Hillary Clinton. Biden closed out his campaign in Pennsylvania last week, and Trump has staged half a dozen rallies there in recent days.
The polls had Biden ahead in Pennsylvania, where the former vice-president grew up, as recently as November 3 - but on election night and the 48 hours since Trump was ahead. Biden has since overtaken Trump's lead as mail-in ballots are counting in Democratic strongholds.
Why the optimism from the Biden campaign?
Biden has been winning the mail-in votes from Pennsylvania which are widening his lead in the state.
The state is also separating ballots arriving after Election Day so long as they were postmarked November 3 in view of a pending case before the Supreme Court on whether those ballots can be counted.
There is little surprise that Trump has argued that those mail votes should not be counted, given that the vast majority are likely to come from Democrats. Trump has questioned the severity of COVID-19 - despite contracting it - while Biden has sought to make the election a referendum on the president's mishandling of the virus. It is his supporters, not Trump's, that vote by mail.
Could Biden win without Pennsylvania?
Yes.
As things stand, he is on 264 electoral college votes to Trump's 214. So he only needs six votes to get the magic number, 270. He could get them by winning Nevada, which has six electoral college votes and has been called by the AP - but where only 84% of the vote has been counted.
There is likewise still a question over Arizona, which has been counted as part of Biden's 264 but where 10% of the vote is left to count and Biden's lead over Trump is slimming.
Equally, North Carolina - and its 16 electoral college votes - is still to play for, although Trump is currently leading by one point with 94% of the votes counted.
So, for Biden, Pennsylvania - and its 20 electoral college votes - is the easiest route to victory.