Coronavirus: France issues curfew, bans weddings amid 'spectacular' rise in COVID-19 cases
Comments
By Euronews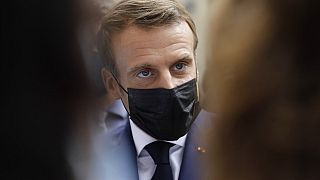 -
Copyright

Lewis Joly/Copyright 2020 The Associated Press. All rights reserved
France's reimposition of a state of health emergency and the introduction of curfews are the consequence of a "sudden and spectacular acceleration" in the spread of the coronavirus virus, the country's prime minister said on Thursday.
Jean Castex told reporters that the national COVID-19 incidence rate over the past ten days had jumped from 107 to 190 cases per 100,000 population with "particularly alarming levels" in some large cities.
Castex was detailing measures unveiled the previous evening by President Emmanuel Macron, including the curfew to come into force from midnight on October 17 in and around Paris and eight metropolitan areas.
These are Grenoble, Lille, Lyon, Aix-Marseille, Montpellier, Rouen, St Etienne and Toulouse. Altogether some 19 million people are affected.
Restrictions for the rest of the country have also been toughened with all private parties, including weddings, banned in public event spaces.
The new measures will last a minimum of four weeks which will be extended to six if parliament gives its approval next week.
'Strong and quick reaction'
Castex stressed that the surge in infections meant ICU services were already feeling the strain and that a "strong and quick reaction" to relieve hospitals which can no longer postpone non-COVID interventions as they did during the lockdown.
"The only real possible strategy is therefore to curb the epidemic by strictly respecting prevention gestures and reducing contacts and social interactions," he said.
The curfew put in place thus aims to not only reduce gatherings in public places but also in private areas with people urged to limit gatherings to a maximum of six people.
People who need to be out and about during curfew hours will need to have a form detailing the reason for them being out — just like during lockdown.
Interior Minister Gerald Darmanin revealed that 12,000 law enforcement officers will be tasked with ensuring the curfew is respected in the capital and the eight metropolitan areas affected.
He also reiterated that breaching the law would result in a €135 fine, rising to as much as €7,500 — and a six-month prison term — for people found to be flouting the rules three times.
Health service situation 'worrying'
On Wednesday evening, President Macron had denied on TV that France had lost control of the virus. But he said that the resurgence in the number of COVID-19 cases was putting the health service under great pressure, describing the situation as "worrying".
There were now an average of 20,000 new cases a day, he said, with some 200 more people with the virus being taken into intensive care in hospital. Coronavirus has killed some 32,000 people in France so far.
The president added that 32% of cases in intensive care were taken up with coronavirus patients.
He said that the aim of the new restrictions was to stop the spread of the virus, protecting the vulnerable, the health service and its workers.
Meanwhile, a government report read: "In view of its spread on the national territory, the COVID-19 epidemic constitutes a health disaster endangering, by its nature and its seriousness, the health of the population. It justifies that the state of health emergency be declared so that measures strictly proportional to the health risks incurred and appropriate to the circumstances of time and place can be taken."
National lockdown 'disproportionate'
Macron said to impose a national lockdown would be "disproportionate". However, respect for the rules was important to avoid even stricter measures in two or three weeks' time.
There would be no new restrictions on public transport or travel between different regions, and people would be free to go on holiday, the president said. He recommended that private gatherings should respect the principle of having no more than six people at a table, as is the guide for restaurants.
By law, France cannot put a limit on the number of people meeting for private gatherings, unlike some other European countries such as the UK which has imposed such restrictions.
Emmanuel Macron promised extra support measures for sectors of the economy affected by the curfews: such as restaurants, theatres, cinemas and public events.
France is one of several countries in Europe to impose restrictions in the face of a second wave of COVID-19 cases across the continent.
Correction: An earlier version of this article said that all weddings and private parties were cancelled, but it is only in public event spaces.