President Trump says he is 'feeling well' as speculation mounts over his condition
Comments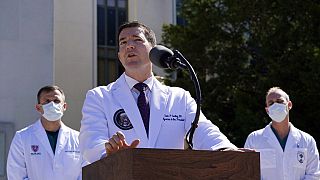 -
Copyright

Susan Walsh/Copyright 2020 The Associated Press. All rights reserved.
President Donald Trump says he is "feeling well" and thanked doctors and medical professionals at the military hospital where he is being treated for COVID-19. 
He used Twitter to thank "Doctors, Nurses and ALL at the GREAT Walter Reed Medical Center, and others from likewise incredible institutions who have joined them, are AMAZING!!!"
Trump also said: "With their help, I am feeling well!"
Earlier, his military doctor, Navy Commander Sean Conley, said he had been fever-free for 24 hours and was "doing very well" at a press briefing. 
Conley said that since being admitted after testing positive for coronavirus on Friday, Trump, who is 74, his symptoms - a cough and nasal congestion - "are now resolving and improving."
"He's in exceptionally good spirits," said another doctor, Sean Dooley, adding that Trump had told him he felt fit enough to leave the hospital already.
Conley was asked repeatedly whether Trump had received oxygen during his time at Walter Reed, which could signify a worsening of the virus, but would only confirm that the president had not been treated with oxygen on Thursday and wasn't currently being treated with it now.
"Thursday no oxygen. None at this moment. And yesterday with the team, while we were all here, he was not on oxygen," he said.
There was also immediate scrutiny about the timing of Trump's illness, after Conley said that it had been 72 hours since the diagnosis. The White House only informed the public about the diagnosis 36 hours earlier, leading to speculation that it had withheld the news.
AP later reported that Trump was given oxygen at the White House before he was flown to the hospital, citing a source familiar with the president's condition. The source added that, contrary to the information from his doctors, his vital signs over the past 24 hours had been "very concerning."
There was more confusion later on Saturday when it emerged that White House chief of staff Mark Meadows had contradicted Trump's medical team just minutes after they had spoken to the media, telling reporters that the president had gone through a "very concerning period" on Friday. 
Timeline
Trump was transported to a military hospital on the advice of his doctors out of an "abundance of caution" after testing positive for COVID-19 on Friday.
The White House said the US president would work from Walter Reed Army Medical Centre in Bethesda, Maryland "for the next few days."
Trump was "fatigued but in good spirits", his doctor said in an earlier statement on Friday, adding that the US president is receiving a cocktail of experimental antibody drugs as a "precautionary measure".
Trump, 74, confirmed in a post on Twitter on Friday morning that he and his wife Melania Trump, 50, will self-isolate for two weeks after testing positive for coronavirus.
The first lady has a mild cough and headache, White House physician Dr Sean Conley said.
They were tested after one of his aides tested positive for the virus. Chief of staff Mark Meadows told media outside the White House that the president had "mild symptoms."
Trump posted: "Tonight, @FLOTUS and I tested positive for COVID-19. We will begin our quarantine and recovery process immediately".
He added: "We will get through this TOGETHER".
Melania Trump also took to Twitter to confirm the news, saying: "As too many Americans have done this year, @potus & I are quarantining at home after testing positive for COVID-19.
"We are feeling good and I have postponed upcoming events. Please be sure you are staying safe & we will get through this together".
The first lady later said that she felt "well" despite "mild symptoms", and hoped for a speedy recovery for herself and her husband.
"Thank you for the love you send us. I have mild symptoms but I feel overall fine. I look forward to a quick recovery," she wrote on Twitter.
Joe Biden, the Democratic candidate for president, said he and his wife had tested negative for the virus. Biden attended a debate with Trump on Tuesday evening.
"I hope this serves as a reminder: wear a mask, keep social distance, and wash your hands," Biden tweeted. In an earlier tweet, he said his thoughts were with the president: "We will continue to pray for the health and safety of the president and his family."
Trump's aide Hope Hicks, 31, tested positive for the disease on Thursday. She acts as a counsellor to the president.
She has travelled to numerous events with the president this week, including the first presidential debate against Democratic nominee, former vice-president Joe Biden in Ohio on Tuesday and a campaign rally in Minnesota on Wednesday.
Trump attended a number of events with crowds and officials the week before he tested positive, with some pointing to last Saturday's nomination of Amy Coney Barrett to the Supreme Court. At least two people who attended the event have since tested positive for the virus, US media reported.
Trump came under fire in September after he admitted he deliberately downplayed how deadly the virus was. The claims were made in a book by Pulitzer-prize-winning journalist Bob Woodward after taped interviews with the president.
Trump has been openly sceptical about the benefits of wearing masks, including making remarks at the first presidential debate where he chastised Biden for wearing one. "I don't wear a mask like him. Every time you see him, he's got a mask," he said.
The president's doctor Sean Conley released a statement on Thursday, saying the Trumps "are both well at this time, and they plan to remain at home within the White House during their convalescence".
He added: "The White House medical team and I will maintain a vigilant watch, and I appreciate the support provided by some of our country's greatest medical professionals and institutions.
"Rest assured I expect the president to continue carrying out his duties without disruption while recovering, and I will keep you updated on any future developments".
Vice President Mike Pence and his wife tested negative for the virus on Friday morning, according to his press secretary Devin O'Malley.
"Vice President Pence remains in good health and wishes the Trumps well in their recovery," he said.
Under the 25th amendment of the US constitution, Trump could cede the presidency to Pence if he becomes incapacitated.
Leaders have begun sending well wishes to the presidential couple, including the president of the EU Council, Charles Michel.
Posting on Twitter, he said: "Wishing @realDonaldTrump and @FLOTUS a speedy recovery. #COVIDー19 is a battle we all continue to fight. Everyday. No matter where we live."
British prime minister Boris Johnson also tweeted: "My best wishes to President Trump and the First Lady. Hope they both have a speedy recovery from coronavirus".
Trump joins a list of other world leaders who have been infected with COVID-19, including Johnson and Brazilian President Jair Bolsonaro.
On Twitter, #TrumpHasCovid was the top trending hashtag on Friday morning, along with the terms "There is a God," "Karma" and "Hoax".