State of the Union: What are the key takeaways from Ursula von der Leyen's speech?
Comments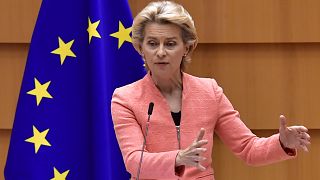 -
Copyright

JOHN THYS / AFP
EU chief Ursula von der Leyen promised a new target for cutting greenhouse emissions in Europe, delivering her first landmark State of the Union address on Wednesday.
The European Commission President said Europe must protect lives and livelihoods amid a resurgence of the coronavirus pandemic.
Outlining the Commission's priorities for the coming year, she also addressed human rights, migration, Brexit and tomorrow's technology.
See our video highlighting five key takeaways from the speech, in the player above.
Main points from von der Leyen's State of the Union address
On greenhouse emissions, von der Leyen set a reduction goal of 55% by 2030, significantly higher than the current target of 40% -- confirming earlier reports.

She promised to protect lives and livelihoods, stabilise the economy and rally the global response to the coronavirus pandemic.

The Commission president proposed building a stronger European Health Union with various measures to strengthen cross-border coordination.

Von der Leyen said there would be a new approach to migration with a "new pact", calling on member states to "step up too" and take responsibility.

The president promised a more assertive EU response to global events and not to compromise on human rights, discrimination and hate.

An EU version of the US Magnitsky Act will be put forward, enabling sanctions to be imposed on human rights abusers.

The EU will take more leadership in the digital transformation, especially on data, technology and infrastructure.

On Brexit, she had a warning for the UK over the agreed and ratified divorce agreement: "It cannot be unilaterally changed, disregarded or disciplined. This is a matter of law and trust and good faith."
Euronews Brussels correspondent Shona Murray summarises Ursula von der Leyen's speech, in the video player above.
'Opportunity' highlighted amid huge challenges
The speech came at a time when the challenges facing Europe and the European Union are enormous. The coronavirus pandemic is continuing to cause havoc across the continent, threatening a major health and economic crisis in the winter.
Von der Leyen repeatedly used the word "opportunity" when talking of the drive to tackle some of the toughest problems, such as the climate. The European Green Deal is one of the new president's flagship policies and a further reduction in emissions was duly announced.
The fire in the Moria refugee camp on the Greek island of Lesbos last week left thousands of migrants without shelter and has focused attention on Europe's responsibility towards migration.
The president promised a new migration pact, commenting that images of the camp were a "painful reminder of the need for Europe to come together", calling on EU states to accept their share of responsibility.
Far and near, the EU is facing hostile actors and foreign policy challenges: from an emboldened China and Russia to crises in the East Mediterranean and Belarus. Von der Leyen urged majority voting on the implementation of sanctions.
On Brexit, she said the UK was destroying its reputation with the Johnson government's plan to ditch part of the international treaty that sealed the divorce terms from the EU.
"Britain does not break treaties," she said, quoting from a 1975 speech from former leader Margaret Thatcher.
Reaction to von der Leyen's speech
The Commission President belongs to the European People's Party (EPP), the largest party in the European Parliament. Responding to her address, MEPs of the second-biggest grouping the Socialists and Democrats said they shared some of her goals -- on carbon neutrality, and giving the EU more competence on health and migration.
There were also calls for more EU financial clout with a stronger long-term budget -- and for funds to be linked to human rights and the rule of law.
Sophie in 't Veld of the Renew Europe group in the European Parliament said the Migration Pact was long overdue, and she awaited the details. But migrant camps like Moria should not be improved but abolished, she tweeted;
Watch Jack Parrock's report above for more political reaction to the State of the Union address.
Guy Verhofstadt of the Renew Europe group challenged von der Leyen to take her speech to the European Council, claiming that half of the issues she mentioned are blocked by the body made up primarily of national leaders.
The Greens/European Free Alliance welcomed funds pledged to fight the coronavirus pandemic and called for public money also to uphold EU values, citing alleged rule of law infringements in Hungary and Poland.
Vice-President Ska Keller said it was time for action against countries with so-called LGBTI-free zones.
Greenpeace criticised the new EU target to cut emissions by 55% by 2030, saying it "falls far short of the cuts required by science to keep global heating to 1.5°C and avoid the worst effects of the climate breakdown".
It accused the Commission of "political convenience and accounting tricks" with plans to offset emission cuts with carbon removal plans such as forest sinks, which the campaigners say have become less efficient.
Watch Ursula von der Leyen's full speech:
See below for text updates of Ursula von der Leyen's speech as it was delivered.
09.16.2020
10:42
Switching to French, von der Leyen talks of the need to support each other to build a better world. This year has shown that more than ever millions of young people are calling on us to save the planet.
Europe has taken up their example and not let our outdated convention hold us back. We need to use the strength of all 27 countries. The future will be what you make of it. We should stop trying to break Europe down. Long live Europe!
09.16.2020
10:38
Von der Leyen praises John Hume, the Irish nationalist politician from Northern Ireland and one of the architects of the peace process who
died recently
.
She mentions other cases of discrimination, racism and hate. Now is the time to make change. The Commission will put forward an action plan, to extend the list of EU crimes to all forms of hate speech in whatever domain. Hate is hate and no-one should put up with that. We will toughen laws and enforcement to fight racism, and improve education and tackle bias. There will be an EU anti-racism coordinator.
We must build a Europe of equality where you can love who you want without fear or recrimination. Being yourself is not your ideology, it is your identity. LBGTQ free zones have no place in our Union. The Commission will put forward a strategy for LGBTQ rights. If you are a parent in one country, you are a parent in every country.
09.16.2020
10:32
The rule of law helps protect people from the rule of the powerful. The Commission will this month adopt the first annual rule of law report, to detect problems and point to solutions. We want to make sure there is no backsliding. We will ensure our budget money is protected against any fraud, corruption or conflict of interest: this is non-negotiable. Breaches of the rule of law cannot be tolerated.
I will fight for the primacy of EU law, freedom of the press, independence of the judiciary. European values are not for sale and are more important than ever.
09.16.2020
10:28
Migration has been discussed long enough. It has defined our societies for centuries and enriched our cultures, shaping many of our lives.
The 2015 crisis caused many differences between member states. If we can make compromises without compromising our principles we can make progress.
We will put forward a new proposal. Saving lives at sea is not optional. Those countries more exposed than others must be able to rely on solidarity of the whole EU.
We will take action to fight smugglers and strengthen external borders. We will make sure those allowed to stay will be welcomed. Von der Leyen gives examples of individual cases of migrants who have achieved success.
We are working with Greece on a new camp on Lesbos. I expect all member states to step up too. Migration is a European challenge and the whole of Europe must do its part.
09.16.2020
10:25
We will promote free trade across the world. 600,000 EU jobs are tied to Japan, we will use our clout to make agreements that made a difference, for instance on the environment.
We will work on "just globalisation", insisting on fairness and a level playing field.
On digital taxation, there must be a fair system. We will bring proposals next year and I want Europe to be a global advocate.
09.16.2020
10:21
Von der Leyen turns to Brexit. The emotional goodbye to the UK by singing Auld Lang Syne showed our attachment.
But talks on future ties are difficult. We worked line by line word by word on the Withdrawal Agreement, it secured citizens' rights and the Good Friday Agreement. We will defend this, it was ratified and we will not let it be changed.
As Margaret Thatcher said, we do not break international treaties.
09.16.2020
10:17
The latest EU-China summit highlights one of the hardest challenges. China is a competitor and rival. China has shown willingness to dialogue on climate change but must live up to its Paris accord promises.
We promote very different systems. Referring to Hong Long, von der Leyen says we believe in democracy and the right of the individual. Criticisms must be protected and legally enforced, we must call out human rights abuses.
When member states say Europe is too slow - I say let's move to majority voting on sanctions implementation.
I can announce a proposal on a Magnitsky act. The European Union is on the side of the people of Belarus. They must be free to decide their own future, they are not 'pieces on someone else's chessboard'.
On Russia, the poisoning of Alexei Navalny is out of order. This pattern of electoral interference etc is not changing.
Turkey will always be an important neighbour. Yes it is housing millions of refugees but must not use this issue to intimidate neighbours. Recent withdrawals in the eastern Mediterranean are an encouraging step.
We must revitalise our most important relationships; We may not agree with the White House but we must cooperate and build a new transatlantic agenda on trade and other matters.
09.16.2020
10:11
 Praise for EU work to coordinate research on a coronavirus vaccine. Vaccine nationalism puts lives at risk, only vaccine cooperation saves lives.
We need a strong WHO and a strong WTO - but reform of the multilateral system has never been more urgent.
Our global system has fallen foul of a creeping paralysis as major powers pull out.
I want the EU to lead reforms of the WHO and WTO.
09.16.2020
10:01
Switching to German, von der Leyen talks about the pandemic's challenges and the need for a common plan for a digital economy. Privacy, access, freedom of expression, the free flow of data - Europe must take a leading role or it will just have to follow others.
Data: Europe has been too slow over personal data, this must change, we have the ability. Europe must secure data and make it widely accessible. Next Generation EU will establish a European cloud.
On technology, AI opens up new worlds but it must be regulated with clear rules and procedures for when things go wrong. The Commission will propose a new law concerning the supervision of personal data.
8bn euro investment promised for technology 'made in Europe'.
09.16.2020
09:55
If others follow our lead, we can meet Paris accord goals. We resolve to meet this target. It will create jobs and more than halve air pollution. We must adapt energy policies. The Green Deal is about more than cutting emissions. We need to change how we approach nature - we will tackle everything from hazardous chemicals to pollution.
37% of Next Generation EU will be spent directly on Green Deal projects.
We set a target of 30% of NGEU 750bn euros to be raised for green bonds.
NGEU projects also will develop more charging points and hydrogen projects.
Buildings generate over 40% of emissions, they must become more sustainable. I want NGEU to kickstart a transformation. It needs to be a new cultural project for Europe.
We will use digital technology to build a greener society, we will do it together to propel Europe forward.