Typhoon Haishen moves on to South Korea after battering Japan
Comments
By Euronews with AP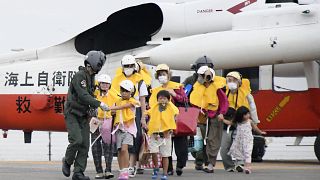 -
Typhoon Haishen flooded roads and damaged buildings in South Korea after battering the islands of the south coast of Japan on Sunday.
Dozens were injured in South Korea as the typhoon passed waters off the eastern coastal city of Sokcho on Monday afternoon, having already hit the south and east of the country.
But the typhoon was weakening, with its maximum winds measured at 108 kilometres (67 miles) per hour after blowing at 144 kilometres (80 miles) in the morning. It was forecast to be downgraded to a tropical storm within 12 hours.
On the weekend, authorities in Japan ordered at least 200,000 people to evacuate certain areas of the country due to the storm.
Japan's Fire and Disaster Management Agency said at least 38 people were injured, five of them seriously, after Haishen lashed southwestern Japan over the weekend with strong winds and rain. Schools and department stores were closed in Hiroshima and other cities in the country's southwest.
Typhoon Haishen, the second powerful typhoon to slam Japan in a week, unleashed fierce winds and blew off rooftops and leaving homes without power.
Weather officials compared rainfall from what could be a record storm to having a bucket of water poured over your head.
Warnings had been issued, days in advance, for people to be ready to take shelter and stock up on food and water.
Haishen was not only powerful, equivalent to a Category 3 hurricane, but also vast in its reach of areas affected, according to the Japanese agency.
Typhoon Maysak, one of the strongest storms to hit the area in several years, hit the area just days ago.