Trump visits hurricane-hit US states of Louisiana and Texas
Comments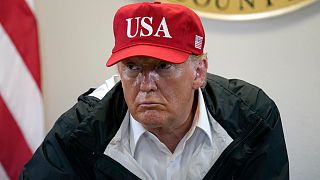 Copyright

Alex Brandon/Copyright 2020 The Associated Press. All rights reserved.
US President Donald Trump has visited hurricane-hit Louisiana and Texas. 
His first stop was in Lake Charles, Louisiana, where officials told him around 400,000 people were without power and around 200,000 without water. He then moved onto Orange County in Texas and met with rescue volunteers and Republican Governor Greg Abbott.
Trump's visit comes two days after Hurricane Laura slammed the Gulf Coast, leaving at least 16 dead and wreaking havoc with severe winds and flooding.
"This was a tremendously powerful storm," said Trump. "In fact, when it came in it was actually much bigger than Katrina, I would say. Katrina being somewhat of a landmark I think in terms of devastation, but this had more power. This was almost coming in at a [category] five [hurricane]."
Trump has sometimes struggled with his role as consoler in chief, failing to project empathy when visiting places hard hit by tragedy and disaster. That includes in Puerto Rico, where Trump was photographed tossing rolls of paper towel into the crowd, which some saw as inappropriately playful, given the circumstances. 
During a trip to the Carolinas in 2018, Trump marvelled at a yacht floodwaters had washed onto a family's property, telling them, "At least you got a nice boat out of the deal." And he was caught on camera telling a person he'd handed out food to "have a good time".
Other times, Trump has been a source of comfort. After a tornado ripped through Alabama last year, killing nearly two dozen people, Trump spent time with families who'd lost loved ones, listening to their stories and hugging them.