Interactive: See how COVID-19 has dramatically changed Hajj pilgrimage
Comments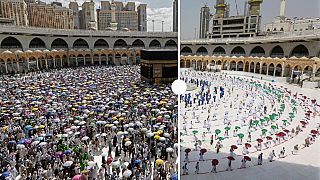 -
This is how the coronavirus pandemic has dramatically changed this year's Hajj pilgrimage, one of the five pillars of Islam.
In 2019, 2.5 million pilgrims made the journey to Mecca, Islam's holiest site. This year, numbers have been restricted to not more than 10,000.
Drag the slider across the image below to contrast pictures taken during the Hajj in 2019, on the left, and, on the right, this year.
If you are having trouble viewing the images, click here.
In pictures: Coronavirus-hit Hajj in 2020