SpaceX astronauts dock with International Space Station after historic launch
Comments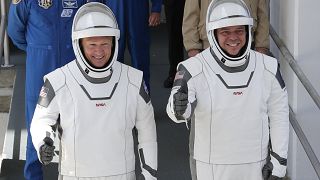 Copyright

AP Photo/John Raoux

-
Two NASA astronauts have safely arrived at the International Space Station (ISS) after the historic launch of the Falcon9 rocket on Saturday from Cape Canaveral, US.
Doug Hurley and Bob Behnken's SpaceX Dragon capsule pulled up to the station and docked automatically, with no assistance needed.
The astronauts took over the controls and did a little piloting less than a couple of hundred metres out as part of the test flight, before putting it back into automatic for the final approach.
Hurley said the capsule handled "really well, very crisp."
The mission made history as it was the first time a private company, Elon Musk's SpaceX, successfully sent humans into orbit.
The launch was also important because it was NASA's first human spaceflight departing from US soil in nearly a decade.
The astronauts will spend one to four months at the ISS, before guiding their capsule to a splashdown in the Atlantic.
The Falcon9 blasted off at 21.22 CET, in a second liftoff attempt after a first try failed on Wednesday because of the threat of lightning.
US President Donald Trump and Vice President Mike Pence attended the liftoff, which was also watched by nearly 4,000 people at the Kennedy Space Center.
SpaceX and NASA monitored the weather not just at Kennedy Space Center, where rain, thick clouds and the chance of lightning threatened another postponement, but all the way up the Eastern Seaboard and across the North Atlantic to Ireland.
Ever since the space shuttle was retired in 2011, NASA has relied on Russian spaceships launched from Kazakhstan to take US astronauts to and from the space station.
NASA hired SpaceX and Boeing in 2014 to taxi astronauts to and from the space station, under contracts totalling $7 billion.
Both companies launched their crew capsules last year with test dummies.
SpaceX's Dragon aced all of its objectives, while Boeing's Starliner capsule ended up in the wrong orbit and was almost destroyed because of software errors.
As a result, the first Starliner flight carrying astronauts isn't expected until next year.