Interactive: World sites pictured from space before and after lockdown
Comments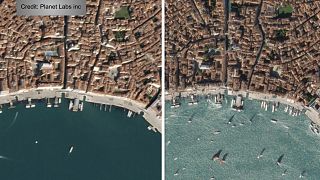 These before-and-after satellite images show the impact the coronavirus lockdowns have had on tourist hotspots in Europe and other sites around the world.
Pull the central white bar left and right across the image to compare.
Beaches and tourist sites normally packed with people are now, amid the lockdown, almost completely empty.
Colosseum, Rome, Italy
Left: 07/06/2019, Right: 06/04/2020
San Marco, Venice, Italy
Left: 20/10/2019, Right: 18/03/2020
Venice, Italy
Left: 28/02/2020, Right: 15/03/2020
Oxford Circus, London, UK
Left: 14/09/2019, Right: 22/03/2020
Mountain View, Google Headquarters, Silicon Valley, California, United States
Left: 24/02/2020, Right: 19/03/2020
Central Park, New York City, US
Left: 26/03/2019, Right: 02/04/2020
Chicago Shedd Aquarium
Left: 19/02/2020, Right: 17/03/2020
Spin Boldak Border, Afghanistan-Pakistan border
Left: 29/08/2019, Right: 10/04/2020
Mecca, Saudi Arabia
Left: 25/01/2020, Right: 10/03/2020
Cairo, Egypt
Left: 12/02/2020, Right: 08/04/2020
Copacabana Beach, Rio de Janeiro, Brazil
Left: 28/04/2018, Right: 23/03/2020