Tokyo 2020 Olympics postponed due to the coronavirus outbreak
Comments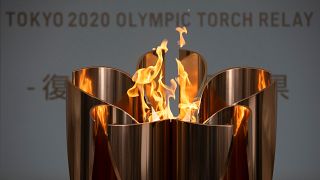 This article originally published on March 24 has been updated to give the new dates for the Games.
The Tokyo Olympic Games have been postponed for a year due to the coronavirus outbreak.
Originally scheduled to begin in late July this year, they will now take place from July 23 to August 8, 2021, the International Olympic Committee says. The new dates for the Paralympic Games are August 24 to September 5, 2021.
Following discussion between Japan's prime minister Shinzo Abe and IOC President Thomas Bach, the IOC confirmed on March 24 that the games "must be rescheduled".
Japan's prime minister Shinzo Abe had proposed postponing the Tokyo Olympic Games by one year in the wake of the virus outbreak that has forced cancellations and postponements on sports events worldwide.
He confirmed on Tuesday (March 24) that he had asked the International Olympic Committee (IOC) for a one-year postponement of the games, which were due to start on July 24, and he told reporters the IOC's president agreed.
In a statement the International Olympic Committee (IOC) said: "In the present circumstances and based on the information provided by the WHO today, the IOC President and the Prime Minister of Japan have concluded that the Games of the XXXII Olympiad in Tokyo must be rescheduled to a date beyond 2020 but not later than summer 2021, to safeguard the health of the athletes, everybody involved in the Olympic Games and the international community."
Pressure to postpone games prompts IOC response
After Australia and Canada confirmed that they would not attend the Olympic Games unless the event was postponed until 2021, pressure had been mounting on the IOC to delay the games to avoid spreading coronavirus.
On Sunday (March 22) Abe said that the postponement of the Olympics was "unavoidable". But on the same day, the IOC said that "cancellation is not on the agenda" and told athletes that it would not announce a formal decision for four weeks.
The rapid spread of the coronavirus worldwide has already led to the postponement of Olympic qualifiers.
On Sunday, the IOC said in a statement that because of "significant improvements in Japan", and "with certain safety restrictions", Japan could host the games and still "safeguard the health of everyone involved."
But with the number of cases of coronavirus growing daily, thousands of people dead and millions under lockdown, the risks of bringing tens of thousands of athletes, crew, staff and supporters to Tokyo in just three months time was looking increasingly unlikely.
The IOC had argued that the logistics of cancelling or postponing the games was equally challenging. But it has now agreed to postpone the games, insisting they will still be called the Olympic and Paralympic Games Tokyo 2020.
The coronavirus has led to cancellations worldwide, including the Euro 2020 football tournament, the Cannes Film Festival and numerous other events.