In pictures: what is going on at the Turkish-Greek border?
Comments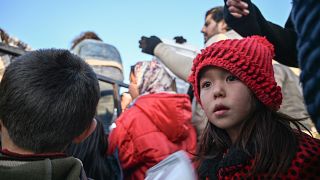 -
Copyright

Ozan KOSE / AFP
Thousands of refugees and migrants have been trying to get into Greece over the past several weeks, after Turkey declared that its borders with Europe are now open.
EU member state Greece, which has long complained of a lack of support from the EU to deal with the arrival of migrants, heavily guards its borders. Special forces from several European countries reached the Greek-Turkish border on Wednesday, 11 March to back up Greek authorities.
Officers in Greece have fired tear gas in numerous confrontations to impede the crowd of migrants and Turkish police have fired it back at their Greek counterparts. There are reports of injuries among migrants and some have been detained.
A group of migrants tried to bring down a fence in a desperate attempt to break through the border and cross into Greece, while others hurled rocks at Greek police. Greek forces responded by firing volleys of tear gas at the group.
There are reports of migrants being captured in Greece and sent back to Turkey, without official procedures being followed.