Thai soldier shot dead after killing at least 29 in gun rampage
Comments
By Euronews with AP, AFP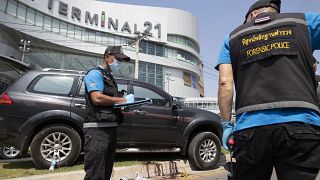 A soldier who shot and killed at least 29 people and wounded 57 others in a shopping centre in Thailand has been shot dead by security forces, in what has been the bloodiest shooting in the country's history.
The suspect was identified as Sgt. Maj. Jakrapanth Thomma, 32, according to Defense Ministry spokesman Lt. Gen. Kongcheep Tantrawanich.
The shooting began around 3:30 pm local time in the north-eastern city of Nakhon Ratchasima, which is also known as Korat.
Public Health Minister Anutin Charnvirakul said there were no bodies left inside the building and added: "We don't know whether there are any additional injuries or deaths or not."
Once at the scene, police commandos searched the mall for the shooter. Security forces said they had secured the building from the ground floor up, locking down the mall and the surrounding area and escorting people outside the shopping centre.
Lieutenant Colonel Poonsap Prasertsak, Commander of Provincial Police Region Three said, "We have ended the perpetrator's criminal act. At the moment, we are gathering evidence and witness material to start an investigation to give justice to all sides."
Police officers said the shooter took a gun from his military base and drove to the Terminal 21 Korat mall, shooting along the way. Several Thai media reported that he travelled in a military vehicle.
According to security camera video aired on Thai Rath television, the gunman appeared to be armed with an assault rifle.
A police officer said the soldier initially shot dead another soldier and a woman, wounding also a third person, apparently over a land dispute.
Many were killed outside the mall, some in cars, others while walking.
Hundreds of people were evacuated from the mall in small batches by police while they searched for the gunman. It took police sharpshooters 16 hours to end the crisis.
"We were scared and ran to hide in toilets", said Sumana Jeerawattanasuk, one of those rescued by police. She said seven or eight people hid in the same room as her.
"I am so glad. I was so scared of getting hurt", she said.
The man believed to be the gunman initially streamed his attack on Facebook but later the video was taken down.
He also posted updates to his Facebook page during the rampage with statements including "No one can escape death" and "Should I give up?". In a later post, he wrote, "I have stopped already."
His profile picture shows him in a mask and dressed in military-style fatigues and armed with a pistol.
The incident in Korat comes just a month after another high-profile mall shooting, in the central Thai city of Lopburi. In that case, a masked gunman carrying a handgun with a silencer killed three people, including a 2-year-old boy, and wounded four others as he robbed a jewellery store.