Coronavirus outbreak in pictures: deserted streets, pharmacy queues and temperature checks
Comments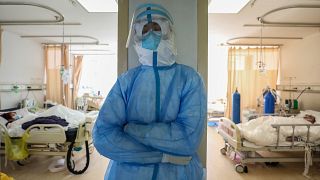 -
A viral outbreak that began in China has infected more than 75,000 people globally, according to the World Health Organization.
Pictures from across Asia and Europe show biosecurity checkpoints, disinfection, long queues to buy face masks and even demonstrations to demand a proactive governmental response to the risks of coronavirus spreading.
Extraordinary scenes of the human response to the outbreak have been captured by photographers as the disease spreads to Europe and elsewhere.
At the beginning of February Hong Kong closed almost all of its border crossings with China to stem the spread of coronavirus. Since January, 62 people were infected with coronavirus and two died.
South Korea has reported 15 new cases of the coronavirus infection on Wednesday, which brought the total number of confirmed cases to 46.
Japan has confirmed 99 more people are infected aboard the quarantined cruise ship Diamond Princess, bringing the total amount of cases to 454.
At the beginning of February, the Philippines reported the first death from coronavirus outside mainland China. On 19 February, three people in the country are reported to be infected.
On Monday, 17 February, the last 44 of evacuees was allowed to leave a quarantine facility in the South of France. Earlier, around 200 French citizens have been placed there after they arrived back from Wuhan, the epicentre of the epidemic. The evacuees were held under armed guard at a holiday camp where they were free to walk around inside but were obliged to wear medical masks. According to the latest figures, France has 12 confirmed cases of coronavirus infection and one death.
A special flight brought 312 Bangladeshis back from Wuhan, including eight who were hospitalised with high temperatures. The government says about 5,000 Bangladeshis study in China.
In Vietnam, the authorities have advised students to wear masks to school. As of 19 February, Vietnam confirmed 16 people were infected with the virus.