US says Soleimani not on 'diplomatic mission' when he was killed
Comments
By Euronews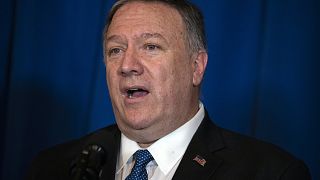 Copyright

AP Photo/ Evan Vucci
US Secretary of State Mike Pompeo defended the US attack that killed Qassem Soleimani, insisting that the Iranian general was not on a "diplomatic mission".
"Is there any history that would indicate that it was remotely possible that this kind gentleman, this diplomat of great order - Qassem Soleimani - had travelled to Baghdad for the idea of conducting a peace mission? We know that wasn't true," Pompeo said, calling Iranian foreign minister Javad Zarif a "propagandist of the first-order".
The airstrike was authorised by US President Donald Trump and carried out on January 3.
Prior to speaking to the press, news broke that Pompeo would not run for his open Senate seat in Kansas this autumn.
Pompeo denied that this was related to the airstrike, saying he planned to be Secretary of State as long as Trump is president.
Pompeo spent most of the press conference fielding questions on the US airstrike against Soleimani.
Defending the airstrike
The US official reiterated his comments from Sunday, defending the strike as the "right decision".
Yet he refused to explain what specific evidence existed of an imminent threat saying if people looked for "imminence", look at the days prior.
When asked about Mr Trump's comments on potentially destroying Iranian culture sites, Pompeo said the government would follow international law, while maintaining that the government response on the issue was consistent.
"Let me tell you who's done damage to the Persian culture. It's not the United States of America. It's the ayatollah," Pompeo said.
Defence secretary Mark Esper distanced the Pentagon on Monday from Trump's statements that cultural sites would be considered as potential targets, insisting the US would "follow the laws of armed conflict".
Read more: Pentagon distances itself from Trump's threat to target Iran cultural sites
The top foreign affairs chief avoided commenting on several questions including how Iran's breakout time to a nuclear weapon had changed since the US pulled out of the 2015 nuclear deal.
He also said that though the administration most likely consulted with lawyers, though he was not specifically aware of how the vetting occurred in this case.
"As a pattern of practice, I have never seen this administration engage in an activity of this nature without a thorough and complete legal review," Pompeo said, emphasising that normally options are reviewed by lawyers before they are presented to the US president.