Iran abandons nuclear deal over Soleimani killing
Comments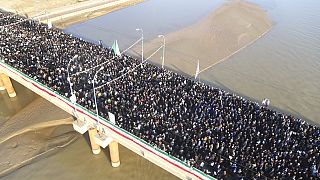 Iran will no longer abide by any of the limits of its 2015 nuclear deal, the country's state television reported on Sunday.
The announcement came Sunday night after another Iranian official said it would consider taking even-harsher steps over the U.S. killing of Iranian Gen. Qassem Soleimani on Friday in Baghdad. State TV cited a statement by Iranian President Hassan Rouhani's administration saying the country will not observe limitations on its enrichment, the amount of stockpiled enriched uranium as well as research and development in its nuclear activities.
It did not elaborate on what levels it would immediately reach in its program.
The Iranian general who replaced the leader killed by a U.S. airstrike in Baghdad, Esmail Ghaani, vowed Sunday to take revenge.
The International Atomic Energy Agency, the United Nations watchdog observing Iran's program, could not be immediately reached for comment.
Earlier on Sunday, Iraq voted to expel foreign troops and Hezbollah pledged to end America's military's presence across in the Middle East over the killing of an Iranian general in a US drone strike.
The country's parliament ended an agreement with Washington that invited US-led coalition troops to Iraq more than four years ago to help in the fight against Islamic State (IS).
It came as tens of thousands of mourners took to the streets to see the remains of Qassem Soleimani carried through two major cities as part of a grand two-day funeral procession across the Islamic Republic.
Trump continued issuing warnings to Iran by tweet. ``"These Media Posts will serve as notification to the United States Congress that should Iran strike any U.S. person or target, the United States will quickly & fully strike back, & perhaps in a disproportionate manner,``" he wrote on Sunday." Such legal notice is not required, but is given nevertheless!''
In other key developments on Sunday:
Donald Trump said he is ready to attack 52 high-profile sites in Iran if it retaliates against US troops — a number matching the US hostages held during the 1979-80 Tehran embassy siege.
Iran responded that attacking cultural sites would be considered a war crime.
Pope Francis urged dialogue, saying that "war brings only death and destruction."
Hezbollah said US bases, warships and soldiers around the Middle East are fair targets.
A base used by the US military in Kenya came under attack.
Israeli PM Netanyahu said Trump is "worthy of all appreciation" for killing Soleimani.
Hassan Nasrallah, the leader of Lebanon's Hezbollah group, said the US military "will pay the price" for Soleimani's killing.
"The suicide attackers who forced the Americans to leave our region in the past are still here and their numbers have increased," Nasrallah said. "The shoe of Qassem Soleimani is worth the head of Trump and all American leaders."
Where and when is the Soleimani funeral taking place?
Thousands mourned Soleimani in Baghdad on Saturday, before authorities flew his body to the southwestern Iranian city of Ahvaz.
Ahvaz was a focus of fighting during the bloody, 1980-88 war between Iraq and Iran in which the general slowly grew to prominence. Soleimani later ran the elite Quds Force that works with proxy fighting groups to secure Iranian interests in countries including Iraq, Lebanon and Yemen.
Soleimani's body is expected to move to Mashhad later Sunday, then onward to Tehran and Qom on Monday for public mourning processions, then finally onto his hometown of Kerman for burial Tuesday.
What is the significance of Trump's 52 sites in Iran?
Trump's tweet refers to the 1979 Iran hostage crisis that overshadowed the end of Jimmy Carter's presidency.
The US embassy in Tehran was invaded on November 4, 1979, after the Islamic Revolution that overthrew the Washington-backed shah.
The crisis lasted a year before the hostages were released to coincide with the January 1980 inauguration of President Ronald Reagan.