Is US drone strike to kill Iranian general legal?
Comments
By Euronews with AP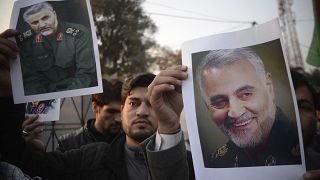 -
After the United States killed Qassem Soleimani, an Iranian top military official, the question of the legality of the move remains to be answered.
Russian Foreign Ministry spokeswoman Maria Zakharova said in a TV interview that there were no legal grounds for the strike. And UN human rights expert, Agnes Callamard, tweeted that the airstrike in Baghdad appeared to be "far more retaliatory for past acts than anticipatory for imminent self-defence".
The US has said General Qassem Soleimani was targeted in response to "imminent threats to American lives."
But was it legal?
American experts say the legal justification for the killing of Soleimani is relatively straightforward under US and international law. There is a well-established doctrine of "anticipatory self-defence" that has been used by Republican and Democratic presidents in recent decades, said Jeff Addicot, a law professor at St. Mary's University School of Law in Texas.
Brookings Fellow Noha Aboueldahab told Euronews that "the legality of such so-called targeted killings is rarely straightforward, especially as it is not clearly defined in international law. However, the killing of Soleimani and Al Muhandis raises several questions. The US Department of Defence statement justifies this killing as an act of both self-defence and deterrence, while also emphasising that Soleimani's Quds Force is a US-designated terrorist organisation".
She adds that this "'terrorist' designation is of course what expands quite drastically the boundaries of what is legal and what is not when it comes to such assassinations. Whether formally declared or not, the US considers itself to be at war against what it deems as terrorist entities, which in turn allows it (in its view) to pursue such extra-territorial assassinations".
According to Aboueldahab, the Pentagon statement stresses that "the aim of this operation was to deter future Iranian attacks against Americans and US interests. The legality of this type of preventative or pre-emptive self-defence is far from clear in international law, for the obvious reason that it can be used and abused recklessly. Moreover, given the broader implications of such escalation in the Gulf region, it is highly questionable whether this operation will indeed deter Iran and its proxies from retaliation".
"At the same time, it is important to remember the deadly role Soleimani played in his support of the Assad regime in Syria, implicating him in the deaths of thousands of innocent Syrians, which is also, of course, a violation of international law. It is not surprising to see many Syrians sighing a breath of relief at the news of this man's death."
But this is not only a Trump-related issue
However, Aboueldahab says, "the US government's targeted killing programme, of course, pre-dates the Trump administration and has seen the deaths of not just those individuals targeted, but innocent bystanders as well. Thus the legality of the US targeted killing programme itself is and has been for some time, under scrutiny by legal experts."
She points out that at a basic level, the "use of force in international law requires that certain fundamental principles are abided by: was the attack militarily necessary? Was it proportionate? Were necessary precautions taken? In the absence of publicly available evidence and instead of a reliance on statements such as those coming out of the Pentagon, time will tell the answer to these questions."
The killing sparked anti-US protests in Indian-controlled Kashmir and a comment by a senior Houthi rebel leader in Yemen that targeting US military bases would be the quickest way to retaliate.