At least 28 dead in Philippines Christmas typhoon
Comments
By Euronews with AFP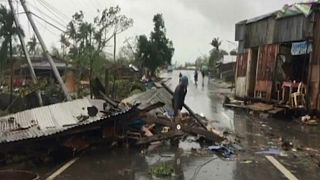 At least 28 people have been killed after a typhoon hit the Philippines on Christmas, forcing thousands of people to flee their homes.
Typhoon Phanfone swept through the island nation carrying gusts up to 195 kilometres per hour and causing significant damage.
Many people were stranded in sea and airports during peak holiday travel times, and the winds set off landslides, flooded low-lying villages, destroyed houses and knocked out power in entire provinces.
The storm made landfall on Christmas Eve, bringing heavy rains, strong winds and flash floods in the Visayas group of islands. 
"You can't see anybody because there was a total blackout, you can't hear anything. The town looked like a ghost town," Cindy Ferrer of the regional Office of the Civil Defense said of the coastal town of Batad in Iloilo province on Christmas day.
Most of the deaths reported by police and local officials were due to drowning, falling trees and accidental electrocution.
Although less powerful, Phanfone followed the same trajectory as Typhoon Haiyan, the most devastating typhoon recorded in the country, which left more than 7,300 dead and missing in 2013.
Provincial officials, army troops, police and volunteers spent Christmas away from home to tend to thousands of displaced residents in town gymnasiums and schools turned into emergency shelters. Many more people spent Christmas Eve, traditionally a time for family reunions, in bus terminals.
More than 25,000 people were stranded in sea ports across the central region and outlying provinces after the coast guard prohibited ferries and cargo ships from venturing into dangerously choppy waters. Dozens of international and domestic flights to and from the region were canceled, including to popular beach and surfing resorts.