Boeing to suspend production of 737 Max in January after fatal crashes
Comments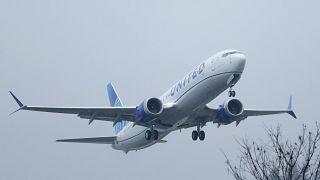 Copyright

AP Photo/Ted S. Warren - Ted S. Warren
Boeing said they would suspend production of their 737 MAX airliner starting in January.
Regulators had grounded the aircraft in March following two fatal crashes but the embattled firm hoped to have approval for the new jets in December.
"We have previously stated that we would continually evaluate our production plans should the MAX grounding continue longer than we expected," the company said in a statement.
"As a result of this ongoing evaluation, we have decided to prioritize the delivery of stored aircraft and temporarily suspend production on the 737 program beginning next month."
The airliner was grounded following the Ethiopian Airlines crash that killed 157 people in March. The 737 Max also crashed in October 2018, killing 189 people after taking off from Indonesia.
Boeing shares fell significantly on Monday but the company said they did not expect any layoffs or furloughs at this time.
Workers based in Seattle, Washington working on the plane will continue "737-related work" or work with other teams, the company said in a statement.
Federal Aviation Administration chief Stephen Dickson told the US Congress last week that the process of clearing the Boeing 737 Max for service "is not guided by a calendar or schedule".
The delay in delivering the 737 Max has had an impact on some airlines including Ryanair which said earlier in the year that they had to cancel hubs and flights due to the delay.