Watch: US-Europe ties are stronger than ever, says NATO chief Jens Stoltenberg
Comments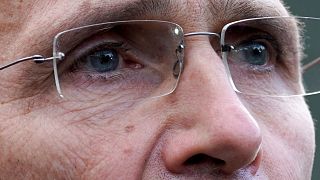 NATO Secretary-General Jens Stoltenberg has defended the relevance, importance and strength of the transatlantic alliance just weeks after French President Emmanuel Macron branded it "brain dead".
Speaking in Brussels, Stoltenberg disputed the idea that the US considered the alliance less important under President Donald Trump, arguing that European unity is not a substitute for unity with the U.S.
His comments come ahead of a meeting of NATO heads of state in London on December 4, likely to be tense given both Macron's criticisms on November 7 and the ongoing Turkish offensive in Syria, which has been condemned by many of its NATO allies.
"Most of the time we agree, we make decisions and we move forward. Other times we see that there are some disagreements," Stoltenberg said.
He highlighted not only Turkey's actions in Syrian but trade, climate change and the Iran nuclear deal as areas where NATO allies disagree - tellingly, perhaps, all issues where European powers have come up against the Trump administration in recent years.
"If we look back at the history of NATO we have seen disagreements before - dating back to the Suez crisis in 1956 all the way to the Iraq war in 2003," he said.
"But the strength of NATO is that despite this we have always been able to unite around our core task - to protect and defend each other."
As for relations between the US and Europe, Stoltenberg argued that - militarily, at least - links are stronger than at any time since the end of the Cold War.
"North America and Europe are doing more together than they have done for decades. We prove every day that NATO is strong, [...] agile and [...] vital for our shared security," he said.
As evidence, he highlighted military exercises due to take place in 2020 that would see 20,000 US troops on European soil, "the largest deployment in 25 years".
Trump previously suggested that Europe was not pulling its weight in sustaining NATO.
But Stoltenberg said he would seek to would deal directly with leaders to try and quell frustration over the alliance.
"I will go to Paris next week, and there I intend to discuss these issues with President Macron. I think that the best way to address any differences is to sit down and discuss them and to fully understand the messages and the motivations," he said.