Emmanuel Macron and Xi Jinping to agree 'irreversibility' of Paris climate accord
Comments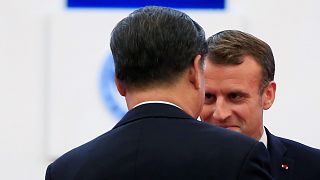 The French and Chinese presidents are set to sign a text that mentions the "irreversibility" of the Paris climate agreement, which comes just hours after the US made its first formal step to withdraw from the accord.
Emmanuel Macron and Xi Jinping will sign the agreement on Wednesday, an official from the French presidential office said, adding that France feels "regret" over the action from the US.
Speaking to reporters in Shanghai, the official said: "We regret this and this only makes the Franco-Chinese partnership on the climate and biodiversity more necessary.
"The text that will be signed tomorrow includes a paragraph on the irreversibility of the Paris agreement."
Jill Duggan, an associate fellow on energy and environment at Chatham House, said that, while China was a major polluter, it was keeping up with its self-imposed targets in the Paris accord.
"Although [China] is the biggest burner of coal today — in historic terms, the US is the biggest contributor to climate change — it is also the biggest investor in solar technology," she told Euronews Tonight. "China is committed to peaking their emissions then reducing over the next 10 years and we want to see if they can bring that forward. "
She added: "Some of the biggest polluters are Australia, Canada [but] Venezuela for example, is something like 4.5 tonnes per capita where in Europe the average is something like 7 tonnes.
"The problem still is that high emitters are developed countries and poor countries are those with very low emissions and when we break that link we really can believe that we're some way to solving this problem."
Macron, who is currently in Shanghai as part of his state visit to China, will meet with his Chinese counterpart on Wednesday.
He spoke at a trade fair in the city on Tuesday shortly after a keynote speech from Xi, and said the cooperation between the EU and China was "decisive" and urged for commitments to be "enhanced".
"If we want to be in compliance with the Paris agreement, we will need next year to enhance our commitments to reduce emissions, and we must confirm new commitments for 2030 and 2050," he said.
"The cooperation between China and the European Union in this respect is decisive. Next year, we need, in the agenda of enhancement, to be collectively up to the task."
Watch the full report in the player above.