Nazanin Zaghari-Ratcliffe's daughter reunited with father in UK after nearly four years in Iran
Comments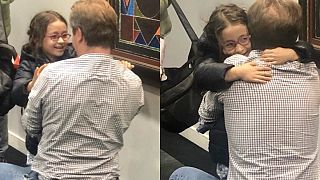 Nazanin Zaghari-Ratcliffe's daughter has been reunited with her father in the UK after spending nearly four years in Iran.
British-Iranian Nazanin Zaghari-Ratcliffe and daughter Gabriella were arrested by Iranian authorities while on holidays in the country to visit family in 2016. The Thomson Reuters Foundation employee has been sentenced to five years in jail on spying charges, which she denies.
Zaghari Ratcliffe has since been held in Evin prison in Tehran while Gabriella, now 5, lived nearby with her grandparents.
In a statement, her father Richard Ratcliffe said that "Gabriella came back to us late at night, a bit uncertain seeing those she only remembered from the phone."
"Now she is peacefully sleeping next to me. And I am just watching.
"It has been a long journey to have her home, with bumps right until the end - and I am grateful to all those at the British Embassy and Iranian MFA who helped smooth all those last blockages.
"Of course the job is not yet done until Nazanin is home.
"It was a hard goodbye for Nazanin and all her family. But let us hope this homecoming unlocks another," he added.
Tulip Siddiq, the Labour MP for Hampstead and Kilburn, said in a statement that "it is heart-warming to see Gabriella reunited with her father after 1,300 days in Iran, but heart-breaking that she is separated from her mother Nazanin."
"Iran must end their hostage diplomacy and immediately release my innocent constituent.
"Nazanin is at breaking point, and today is yet another reminder that she has been failed at the very highest levels of Government," she wrote.
Britain's Foreign Secretary said in a statement that "this is a situation that neither Richard and Nazanin or any other parent should ever have to face. Gabriella is an innocent child and should be able to go to school and be with bother her parents."
"We continue to urge Iran to release Nazanin immediately so the family can be reunited in the UK," he added.
Amnesty International UK has denounced Iran's treatment of Nazanin as "unspeakably cruel" and described Gabriella's return to the UK as "wonderful" event happening in "horribly difficult circumstances".
"Nazanin is a prisoner of conscience, who's been behind bars in Iran for more than three-and-a-half years - now she's even being cut off from her main source of support, her young daughter", Kate Allen, Amnesty International UK Director, said in a press release. "It really is unspeakably cruel."
"This should now be the tipping point - the Iranian authorities should finally do the right thing, by releasing Nazanin and allowing her to return home to Richard and Gabriella in the UK," Allen added.
In an open letter to "the Mothers of Iran" published in early October, Nazanin Zaghari-Ratcliffe wrote: "My heart pounds much more than usual every Sunday morning – when I get to see my Gabriella Gisou in the visiting room of Evin prison, full of excitement.
"In the near future, my baby will leave me to go to her father and start school in the UK. It will be a daunting trip for her travelling, and for me left behind. And the authorities who hold me will watch on, unmoved at the injustice of separation.
"I have no hope or motivation after my baby goes. There is no measure to my pain," she added.