Trump: We're going to 'see if we can do something' about fatal crash involving diplomat wife
Comments
By Jane C. Timm with NBC News Politics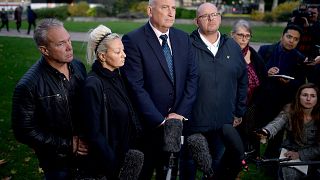 Copyright

Peter Summers Getty Images

-
President Donald Trump addressed the death of a British teen allegedly killed in a crash with a car driven by the spouse of a U.S. diplomat, telling reporters on Wednesday that he'd discussed the matter with British Prime Minister Boris Johnson in a call.
"We're going to speak to her very shortly and see if we can do something," Trump said. "It was an accident, a terrible accident."
The woman, Anne Sacoolas, 42, has since returned to the U.S. She is a suspect in the investigation into the fatal crash that killed 19-year-old Harry Dunn in the village of Croughton, England, in late August, according to British police, who said last week they were pursuing "diplomatic channels" to ensure the investigation continued.
Dunn was driving a motorcycle when he collided with a Volvo XC90 going the wrong way, according to police. The U.S. State Department confirmed to NBC News that the other driver was the spouse of a U.S. diplomat assigned to the United Kingdom.
British prosecutors have not yet said whether they would recommend charges in this case.
News
Trump said Wednesday that the woman had diplomatic immunity, but that he hoped to find some kind of resolution to the matter.
"We're going to speak with her and see what we can come up with, so that there can be some healing," Trump said. "There's tremendous anger over it. It's a terrible incident, there's tremendous anger, and I understand the anger from the other side."
The president said she was driving on the wrong side of the road at the time of the crash.
"That can happen, those are the opposite roads," he said. "I won't say it ever happened to me, but it did."
News
The story has reverberated in the United Kingdom, with the country's politicians joining the conversation. Dunn's parents told NBC Newsthey were informed that the diplomat's spouse had gone back to the U.S. when they had a meeting with the police a couple of days after their son's funeral, which has left them "in shock."
"She needs to come back and see what she's done," Charlotte Charles, the teen's mom, told NBC News on Saturday, fighting back tears.