Ambassador to EU called Trump before texting 'no quid pro quo' to top US diplomat in Ukraine
Comments
By Josh Lederman and Heidi Przybyla and Leigh Ann Caldwell and Geoff Bennett and Monica Alba and Julia Ainsley with NBC News Politics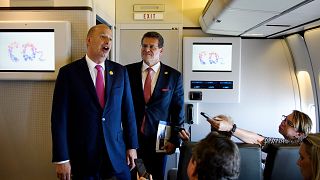 -
Copyright

Brendan Smialowski AFP - Getty Images file
Ambassador to the European Union Gordon Sondland consulted directly with President Donald Trump before telling the top U.S. diplomat in Ukraine that there had been "no quid pro quo" regarding the administration's pressure campaign on the country and urging the diplomat to stop texting about his concerns, a person with knowledge of the call confirmed to NBC News.Sondland spoke to Trump by phone on Sept. 9 before responding to acting Ambassador to Ukraine Bill Taylor's remark that it would be "crazy" to link Ukraine assistance to help with a political campaign, the person said. When Sondland responded several hours later, he told Taylor that Trump had been "crystal clear" there was no quid pro quo.The conversation between Trump and Sonland was first reported by The Wall Street Journal. The Trump administration's alleged efforts to pressure Ukraine to investigate former Vice President Joe Biden and his son while the U.S. withheld military aid to the country have given rise to an impeachment investigation in the House.According to the individual and two congressional aides, Sondland, Taylor and former U.S. envoy to Ukraine Kurt Volker also used the encrypted messaging app WhatsApp, in addition to regular text messages, to communicate about the administration's Ukraine efforts. The use of WhatsApp has raised questions about the potential problems it could pose for complying with federal record-keeping requirements.
Politics
Volker turned over a score of text messages to Congress last week as part of his joint deposition to three House committees leading the chamber's impeachment investigation. House Democrats made some of those text messages public, and congressional officials say they have more text messages between the three administration officials that have not been released.Sondland, who has emerged as a central player in Trump's bid to persuade Ukraine's new government to commit publicly to investigate corruption and the president's political opponents, was scheduled to be interviewed Tuesday by the House committees leading the impeachment inquiry, but was barred from doing so by the State Department.A statement distributed by his attorney, Robert Luskin, on Tuesday made clear that the State Department was blocking Sondland from testifying over his objections. The statement said Sondland was "profoundly disappointed" he couldn't testify, having traveled to Washington from Brussels to do so. Sondland was ready to testify "on short notice" once the State Department's concerns about his testimony are resolved, Luskin said.
Sondland is part of a small cadre of ambassadors who enjoy direct and frequent access to Trump, U.S. officials and others with knowledge of their relationship also say. The two speak frequently by phone and have spoken extensively about Ukraine in the past, the officials say.In a July 25 interview with state-run Ukrainian television, Sondland said he'd spoken directly with Trump before the president's phone call with Ukrainian President Volodymyr Zelenskiy that same day, in which the president pressed Zelenskiy to investigate the Biden family."President Trump has not only honored me with the job of being the U.S. ambassador to the EU, but he has also given me other special assignments — including Ukraine," Sondland said in the TV interview.Trump has told officials that he likes Sondland and believes he's done a good job as ambassador to the European Union, a senior U.S. diplomat said. Despite his close relationship with Trump, Sondland's inexperience frequently showed on the job, and career officials sometimes had to reign him in, a former Trump administration official said.Sondland had no formal diplomatic experience before Trump picked him for one of the top ambassadorships. Before starting in the role in 2018, Sondland was an Oregon businessman who founded a boutique hotel company, Provenance Hotels, that operates in the Pacific Northwest and elsewhere throughout the country.A Republican mega-donor, Sondland initially supported Jeb Bush in the 2016 campaign and distanced himself from Trump after his attack on Khizr Khan, whose son was killed in action in Iraq. But Sondland ended up bundling for Trump and ultimately gave $1 million to the president's inaugural committee. The next year, he was confirmed by the Senate to be the ambassador to the European Union.