Trump allies respond to second whistleblower: 'Why should I care?'
Comments
By Allan Smith with NBC News Politics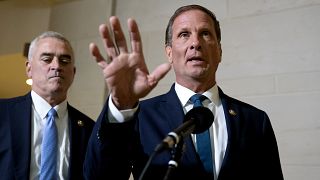 Copyright

J. Scott Applewhite AP

-
President Donald Trump's allies on Sunday offered up a collective shrug in response to news of a second whistleblower coming forward about his July phone conversation with Ukrainian President Volodymyr Zelenskiy.
"It does not matter," Rep. Chris Stewart, R-Utah, told "Fox News Sunday."
"This person is going to come forward and say, yep the president had this phone call," Stewart, a member of the House Intelligence Committee, said. "And yep, that's the transcript. Why should I care at all what his opinion and judgment of this transcript is? You and I can read it."
The defense echoed what the president's personal attorney Rudy Giuliani offered on Twitter around the same time. The former New York City mayor has himself become embroiled in the scandal over his months-long effort to have Ukrainian officials investigate former Vice President Joe Biden and son Hunter.
And on CBS's "Face the Nation," Sen. Roy Blunt, R-Mo., said, "we all are first-hand sources now that we've seen the transcript."
Blunt, a member of the Senate Intelligence Committee, said that, "it's a difference situation when the president says 'that's what I said and why I said it," adding that Trump "thinks he's on solid ground."
The July phone call, during which Trump asked Zelenskiy to "look into" the Bidens, and the administrations' subsequent response were the subject of a whistleblower complaint filed in August with the intelligence community's inspector general. Attorneys representing the whistleblower said on Sunday that they had taken on a second whistleblower who had firsthand knowledge of the issue. House Democrats last month launched a formalimpeachment inquiry amid reports of the first whistleblower complaint.
Trump has said the call was "absolutely perfect" and "totally appropriate."
Trump lashed out at the second whistleblower on Saturday.
"The first so-called second hand information 'Whistleblower' got my phone conversation almost completely wrong, so now word is they are going to the bench and another 'Whistleblower' is coming in from the Deep State, also with second hand info," Trump tweeted. "Meet with Shifty. Keep them coming!"
Meanwhile, text messages given to Congress Thursday and released by House Democrats suggest the call was part of a broader effort from Trump and his administration to pressure Ukraine. Those messagesshow U.S. ambassadors working to persuade Ukraine to publicly commit to investigating Trump's political opponents and explicitly linking the inquiry to whether Ukraine's president would be granted an official White House visit.
"You've got a president that is acting like a global gangster" who is "trying to get dirt on his political opponent," Sen. Amy Klobuchar, D-Minn. and a 2020 presidential candidate, told CNN's "State of the Union. "I consider that a violation of our laws."
Speaking with NBC's "Meet the Press," Sen. Chris Murphy, D-Conn., said Republicans were going to "wild lengths" to avoid criticism from Trump.
"They shouldn't be fearful of this president," he said. "If they vote to get rid of him, there's nothing he can do to hurt them."
The president and his top allies have zeroed in on Biden's 2016 call, backed by much of the international community, to remove then-Ukrainian prosecutor Viktor Shokin, who had been widely accused of not doing enough to crack down on corruption. Shokin had been investigating Burisma, the scandal-plagued energy company affiliated with Biden's son Hunter. But earlier this year, Bloomberg News, citing documents and an interview with a former Ukrainian official, reported that investigation had been dormant for more than a year by the time Shokin was fired. In addition, former Ukrainian prosecutor general Yuriy Lutsenko has told news outlets he found no evidence of wrongdoing by Biden and his son.
The president last week began ramping up his push to include Hunter Biden's Chinese dealings— even publicly calling for China to investigate the Bidens.
"China should start an investigation into the Bidens because what happened in China is just about as bad as what happened with Ukraine," Trump told reporters outside the White House.
The president has repeatedly accused the former vice president's son of using a 2013 trip on Air Force Two with his father to procure $1.5 billion from China for a private equity fund he had started. There has been no evidence of corruption on behalf of either Biden. The Washington Post found Trump's claims false. And a spokesman for Hunter Biden said he did not acquire an equity interest in the fund until 2017, after his father had left office. His total capitalization from the fund at the time amounted to about $4.2 million, not the $1.5 billion Trump alleged.
When pressed Sunday about whether they supported the president calling on China to probe the Bidens, Trump allies suggested the president was just kidding around.
"George, you really think he was serious about thinking that China's going to investigate the Biden family?" Rep. Jim Jordan, R-Ohio, told ABC's George Stephanopoulos on "This Week."
Jordan said he didn't think "anyone in America really believes" Trump thinks China will probe the Bidens.
"I don't think it's really like, oh, China, go investigate the Bidens," he said.
On "Face the Nation," Blunt said, "I doubt if the China comment was serious, to tell you the truth," suggesting as Jordan did that the president was just trying to "bait the press."