Diplomats' text messages provide powerful evidence for impeachment
Comments
By Chuck Todd and Mark Murray and Carrie Dann with NBC News Politics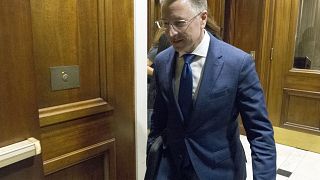 Copyright

Jose Luis Magana AP

-
WASHINGTON — It was always going to be difficult for Democrats to lay out their impeachment case against President Trump using his rhetoric alone, even when he's caught on camera asking Ukraine and China to help him against Joe Biden.
But the text messages that House Democrats released Thursday night — from envoy Kurt Volker — provide the potentially tangible evidence that the president of the United States was using the power of his office to extract re-election help from another country.
Politico calls them "the smoking texts," and it's hard to disagree.
Here's the exchange that's received most of the attention:
Ukraine embassy official Bill Taylor on Sept. 9: "As I said on the phone, I think it's crazy to withhold security assistance for help with a political campaign."
U.S. Ambassador to the EU Gordon Sondland (a major Trump donor): "Bill, I believe you are incorrect about President Trump's intentions. The President has been crystal clear no quid pro quo's of any kind. The President is trying to evaluate whether Ukraine is truly going to adopt the transparency and reforms that President Zelensky promised during his campaign I suggest we stop the back and forth by text."
Note that Sondland reply came nearly five hours later. (Did he get a tip that the correspondence by text was problematic?)
But even if you think that Sondland's reply provides a defense that there was no quid pro quo, it's important to see all of the text messages that came before that final exchange.
Volker's text to Sondland on July 19 (six days before Trump's phone call with Zelensky):
"Good. Had breakfast with Rudy [Giuliani] this morning — teeeing up call with (Zelensky adviser) Yermak Monday. Must have helped. Most impt is for Zelensky to say that he will help investigation — and addresss any specific personnel issues — if there are any."
Taylor's exchange with Sondland on July 21 (four days before the call):
Taylor: "Gordon, one thing Kurt and I talked about yesterday was Sasha Danyliuk's point that President Zelensky is sensitive about Ukraine being taken seriously, not merely as an instrument in Washington domestic, reelection politics."
Sondland's reply: "Absolutely, but we need to get the conversation started and the relationship built, irrespective of the pretext. I am worried about the alternative."
Volker's text with Yermak on the morning of Trump's call with Zelensky:
"Good lunch — thanks. Heard from White House — assuming President Z convinces trump he will investigate/'get to the bottom of what happened' in 2016, we will nail down date for visit to Washington. Good luck! See you tomorrow — kurt."
Sondland's exchange with Volker on August 17 regarding a proposed Ukrainian statement on the 2016 election and Burisma
Sondland: "Do we still want Ze to give us an unequivocal draft with 2016 and Boresma?"
Volker: "That's the clear message so far… "
A clear message indeed.
Tweet of the day
Time to focus more on those ellipses
Given those text exchanges, it's now worth asking if those ellipses in the transcription memo of Trump's July 25 call are much more meaningful than we first thought.
"I would like you to do us a favor though because our country has been through a lot and Ukraine knows a lot about it. I would like you to find out what happened with this whole situation with Ukraine, they say Crowdstrike ... I guess you have one of your weal thy people ... The server, they say Ukraine has it."
And:
"The other thing, there's a lot of talk about Biden's son, that Biden stopped the prosecution and a lot of people want to find out about that so whatever you can do with the Attorney General would be great. Biden went around bragging that he stopped the prosecution so if you can look into it ... It sounds horrible to me."
Maybe the biggest remaining mystery is whether they are more words from that July 25 conversation we don't know about.
2020 Vision:Bernie's looking forward to the debate, per his wife
Yesterday, Bernie Sanders' wife, Jane, released a statement about his health, saying "he's ready to get back out there and is looking forward to the October debate."
"Bernie is up and about," she said in the statement. "Yesterday, he spent much of the day talking with staff about policies, cracking jokes with the nurses and doctors, and speaking with his family on the phone."
She added, "His doctors are pleased with his progress, and there has been no need for any additional procedures. We expect Bernie will be discharged and on a plane back to Burlington before the end of the weekend. He'll take a few days to rest, but he's ready to get back out there and is looking forward to the October debate."
What Jane Sanders did not say: what caused the emergency heart procedure in the first place.
Nor was there any actual statement from Sanders' doctors.
On the campaign trail today
Joe Biden, Kamala Harris, Elizabeth Warren, Julian Castro and Cory Booker all attend an SEIU presidential forum in Los Angeles… Jill Biden stumps for her husband in Iowa… Amy Klobuchar also is in the Hawkeye State… Pete Buttigieg keynotes an NAACP fundraiser in Indianapolis… And Tom Steyer is in South Carolina.
Dispatches from NBC's embeds
Pete Buttigieg suggested that Vice President Mike Pence could be implicated in the president's controversy with Ukraine. While campaigning in his hometown of South Bend, Ind., Buttigieg said, "Well certainly credible allegations to suggest that the vice president has been in the middle of this abuse of power. And it's one of the things that Congress will need to look into. There's no question that an abuse like this doesn't happen with just one person, especially when you move into how it was covered up," per NBC's Priscilla Thompson.
Kamala Harris held her second "Dude Gotta Go" event in Reno, Nevada where, "for an event that was sponsored by the College Dems, most of the room was older white people, with some students standing in the back," NBC's Deepa Shivaram observes. Harris said that there's a pretty "tight case" for President Trump's impeachment: "What we're looking at right here on that TV in these last few days is the confession of a crime and attempt to cover up a crime putting that stuff in that other computer - right? And consciousness of guilt sister, and consciousness of guilt. Which is why on this path to impeachment, I'm a tell you guys, I don't think it's gonna take very long because it's pretty tight case. Looks like a pretty tight case."
Data Download: The number of the day is … $15.2 million
$15.2 million.
That's how much Joe Biden raised in the third fundraising quarter, according to his campaign.
The haul is a dip from last quarter, and it puts him well under at least two lower-polling candidates, including Bernie Sanders, who raised more than $10 million *more* than Biden in the same amount of time.
Here's where the fundraising numbers we know stand, compared with each candidate's fundraising in the second quarter.
Sanders: $25.3 million (up from $18 million in the 2nd Q)
Buttigieg: $19.1 million (down from $24.9 million)
Biden: $15.2 million (down from $22 million)
Harris: $11.6 million (down from $11.8 million)
Yang: $10 million (up from $2.8 million)
Booker: $6.0 million (up from $4.5 million)
Williamson: $3 million (up from $1.5 million)
Bennet: $2.1 million (down from $2.8 million)
The Lid
Don't miss the pod from yesterday, when we checked in on the Louisiana governor's race.
ICYMI: News clips you shouldn't miss
Here's Josh Lederman's look at everything we know about those text messages between U.S. diplomats about Ukraine.
An IRS whistleblower says he was told that at least one political appointee at the Treasury Department tried to interfere with the annual audit of the president or the vice president's tax returns.
To remove Trump, Republican lawmakers would have to break with him. Life hasn't been easy for those who have.
Bernie Sanders' campaign says he's looking forward to the October debate after his hospitalization.
Trump Agenda: In plain sight
Jonathan Allen looks at what Trump may be trying to do by publicly repeating his requests that foreign leaders investigate Joe Biden.
Joni Ernst is breaking with Trump to defend the Ukraine whistleblower.
Where did the whole CrowdStrike conspiracy theory even come from?
Rick Perry may be headed out the door.
The leader of Hong Kong has invoked emergency powers to ban face masks during protests.
2020: Back to immigration and health care
Same ol' story: The Kentucky airwaves are being dominated by immigration and health care issues in the ramp-up to the governor's race.
What impact will Tulsi Gabbard have on the debate stage?
Joe Lieberman's son is in for Georgia's special Senate election.