Watch again: Boris Johnson calls for EU to embrace Brexit compromise
Comments
By Euronews with Reuters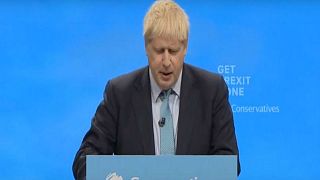 Copyright

Stefan Rousseau/Pool via REUTERS
UK Prime Minister Boris Johnson said he was submitting on Wednesday "constructive and reasonable proposals" to the European Union and that he hoped that Brussels would find room to compromise to secure a Brexit deal.
"Today in Brussels we are tabling what I believe are constructive and reasonable proposals, which provide a compromise for both sides," he told his Conservative Party's annual conference in Manchester.
"And yes this is a compromise by the UK, and I hope very much that our friends understand that and compromise in their turn."
"What the whole world wants - is to be calmly and sensibly done with the subject and to move on. And that is why we are coming out of the EU on October 31, come what may ... let's get Brexit done. We can, we must and we will," Johnson said.
Johnson delivered a revised exit plan to the European Commission hours later on Wednesday.  
According to a document released by officials, the plan would provide for the potential creation of an all-island regulatory zone on the island of Ireland covering all goods, would ensure the integrity of the European Union Single Market and would be in keeping with the 1998 Good Friday peace deal.
READ MORE: Boris Johnson sets out Irish border plan, tells Juncker: 'We can surely solve' Brexit
Irish border
"We will respect the peace process and the Good Friday agreement," Johnson said regarding the Irish border, which has so far been a sticking point in the negotiations with the EU.
Ireland says an invisible border is a key national interest as any checks or infrastructure on the frontier could undermine Northern Ireland's 1998 peace deal, known as the Good Friday Agreement.
"We will under no circumstances have checks at or near the border in Northern Ireland," Johnson told fellow Tories.
"We will respect our precious union with Great Britain and Northern Ireland."
He said that the Northern Irish assembly would be given a "renewable" say over regulatory arrangements. The United Kingdom, he said, would leave the EU "whole and entire".
"By a process of renewable democratic consent by the executive and assembly of Northern Ireland, we will go further and protect the existing regulatory arrangements for farmers and other businesses on both sides of the border," Johnson said.
"At the same time we will allow the UK - whole and entire - to withdraw from the EU, with control of our own trade policy from the start," he said.
New technology
Johnson said the EU needs to prepare to accept new technology to solve the issue of preventing a hard border between Northern Ireland and the Irish Republic.
He said if the EU fails to be more flexible then he is ready to take Britain out of the bloc without a divorce deal.
"If we fail to get an agreement because of what is essentially a technical discussion of the exact nature of future customs checks (...) then let us be in no doubt that the alternative is no deal. That is not an outcome we want," he said. 
No second referendum
Johnson ruled out holding a second Brexit referendum. "A second referendum on the EU? Can you imagine? Another 3 years of this?" he said.
Johnson has faced significant setbacks to his plan to take the United Kingdom out of the European Union by October 31 including a series of losses in Parliament at the beginning of September in which members passed legislation meant to stop a no-deal Brexit.
A forthcoming European Council summit on October 17-18 has been seen as a decisive moment. The British parliament has passed a law designed to force another Brexit delay if the government has not agreed on a deal by then.
"The sad truth is that voters have more say over 'I'm a Celebrity' (a TV programme) than they do over this House of Commons which refuses to deliver Brexit, refuses to do anything constructive and refuses to have an election just at the moment when voters are desperate for us to focus on their priorities," Johnson said on Wednesday.
Reactions across Europe
Irish Prime Minister Leo Varadkar on Wednesday said that he had not yet received new British proposals on the terms of its departure from the European Union, but that British officials had briefed their Irish counterparts and the details were not encouraging.
"In terms of any proposals that are being produced today, I don't want to comment on them until I have had a chance to see them and study them. But certainly what we are hearing is not encouraging and would not be the basis for an agreement, sadly, in my view," Varadkar told the Irish parliament.
Varadkar said he planned to speak with Johnson by phone on Wednesday evening.
EU lawmaker Philippe Lamberts said after British Prime Minister Boris Johnson's speech at the Conservative Party conference in Manchester that he was not reassured and a no-deal Brexit was looming.
"Frankly speaking, this doesn't bode well," he told Reuters. "We have a clear negotiating stance, we are going to negotiate with the British prime minister."
"I think that the most likely scenario at the moment is a no-deal Brexit because I'm not sure this prime minister is prepared to abide by the law."
"We are confronted with a prime minister whose strategy, I think, is to achieve a no-deal Brexit and blame EU 'friends' for the unsuccessful outcome."
France is waiting for substantial modifications from Britain regarding its Brexit proposals, said government spokeswoman Sibeth Ndiaye.
"The deal that is in place today is a good deal. France is waiting for substantial modifications," she told reporters, adding that France also wanted "tangible" proposals from Britain.
The European Commission will examine the latest Brexit proposals outlined by British Prime Minister Boris Johnson and will do what it can to get a deal as time is pressing, a German government spokeswoman said on Wednesday.
"We want to come to an agreement but we are prepared for everything," said Ulrike Demmer when asked about the proposals. 
READ MORE: Johnson to give EU 'final' Brexit plan in bid to take back control