Hong Kong police shoot young protester at close range
Comments
By Euronews with AP, Reuters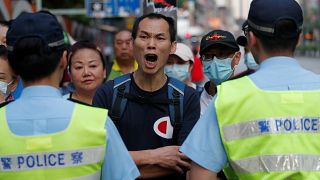 Copyright

REUTERS/Susana Vera
Hong Kong police shot a young protester at close range on Tuesday during clashes that marked a major escalation in violence as the People's Republic of China celebrated its 70th anniversary.
An 18-year-old was injured in the shoulder after officers fired a live round. The Hong Kong hospital authority said 15 people were injured in various locations.
The clashes, which were condemned as "disproportionate" by Britain's foreign secretary, were expected to overshadow China's National Day celebrations, which included an extravagant military parade.
Protest organisers wrote on Twitter that one police officer had fired live rounds on protesters, injuring at least one person.
The Hong Kong police defended the incident in a video posted to Facebook that said a "large group of rioters" had attacked police officers and that the officers' "lives were under serious threat".
"To save his own life and his colleagues' lives, he fired a live shot at the assailant," a police spokeswoman said.
In the same video, a spokesperson urged the public to "stay home and avoid going outdoors" due to the "very dangerous" situation.
"All rioters must stop all illegal acts. Police will continue to enforce the law seriously," the police spokeswoman said.
"Whilst there is no excuse for violence, the use of live ammunition is disproportionate, and only risks inflaming the situation," said UK Secretary of State for Foreign Affairs Dominic Raab in response to the shooting.
In a speech at the 70th-anniversary celebrations, Chinese President Xi Jinping talked about "prosperity and stability" in its special administrative regions.
"While forging ahead, China must adhere to the principle of 'peaceful reunification and one country, two systems,' maintain lasting prosperity and stability in the Hong Kong and Macao special administrative regions, promote peaceful development of cross-Strait ties, and unite the whole Chinese population to continue the fight for full reunification of our motherland," Xi said.
Police in Hong Kong warned ahead of the protests that they were preparing for violence to escalate.
"The violent acts are one-step closer to acts of terrorism," said Tse Chun-chung, Chief superintendent of police relations.
Several transit stations were closed ahead of the protests. Video of the protests showed fire and smoke in the city.
On Monday, anti-government protesters formed a human chain, holding signs that read "Thank you for supporting Hong Kong."
The protests come after violent clashes between protesters and police occurred over the weekend in Hong Kong.
Want more news?