Watch: Rouhani accuses Europe of 'lacking willingness' to keep Iran nuclear deal going
Comments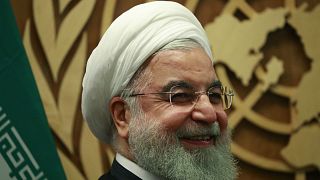 Iranian President Rouhani has slammed Europe for showing an "inability or lack of willingness" to keep the Iran nuclear deal going, putting "all the costs and burden on the shoulders of Iran".
The leader made the comments about the Joint Comprehensive Plan of Action (JCPOA) speaking on the sidelines of the 74th sessions of the United Nations General Assembly at the organisation's headquarters in New York.
You can watch the full speech back in the above video player.
Rouhani said that the US should "pay more" for any agreement that goes beyond the Iran nuclear deal, which the US pulled out of.
He said during an earlier press conference that he had rejected meeting US President Donald Trump while the two were in New York.
Trump wants to go beyond the deal to curb Iran's nuclear programme and end its support for proxy forces in the Middle East.
"If you wish more, if you require more, you should give and pay more," Rouhani said in his address, without giving further details.
He stressed that commitments to the JCPOA are "multilateral" and that Iran felt like it was the only player fulfilling its commitments.
Therefore, Tehran was seeking to "create a balance" and to decrease their commitments to the deal since other players had reduced theirs, he added.
"If the other side fulfils their commitments, we will return to full commitments," he said, adding that he "hoped that everyone return to full implementation" of the deal.
Rouhani also deplored the fact that, in his view, Europe's solution to the problem needed US approval.
He added that talks in New York focused on lifting sanctions in their entirety but that they had not been completely successful.
Concerning tensions with regional neighbour Saudi Arabia, Rouhani said they all relate back to the conflict in Yemen.
"If there is a ceasefire with Yemen, our problems with Saudi Arabia could be resolved," he said.
The Iranian leader said that the regional crisis in the Middle East could only be resolved through diplomacy.