House passes short-term funding measure to avert October shutdown
Comments
By Rebecca Shabad with NBC News Politics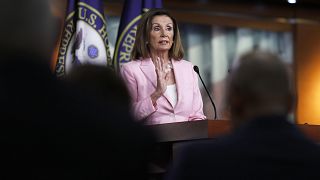 -
Copyright

Tom Brenner Getty Images
WASHINGTON — The House on Thursday passed a short-term spending measure that will keep the government funded through mid-November and avoid a shutdown at the beginning of October.
Lawmakers approved the bill, known as a continuing resolution, in a 301-123 vote, a day after the final deal was reached over its language between both parties in the House and Senate.
The legislation will keep the government funded through Nov. 21, a week before Thanksgiving. Congressional appropriators aim to reach an agreement for a comprehensive spending package before that deadline that would provide increased funding levels for the rest of the 2020 fiscal year.
"Our continuing resolution will provide families, businesses, and communities with budget certainty while we negotiate long-term funding. After we pass this CR and the Senate moves forward with their process, I look forward negotiating responsible bills that uphold our values and give working families a better chance at a better life," House Appropriations Committee Chairwoman Nita Lowey, D-N.Y., said in a statement Wednesday.
The bill includes extensions of several health programs including Medicaid in Puerto Rico and the U.S. territories and for Community Health Centers, among others. It also extends the National Flood Insurance Program and the Export-Import Bank.
Senate Majority Leader Mitch McConnell, R-Ky., has said that the Senate plans to take up the CR, but hasn't yet announced timing for a vote. The vote will likely be held next week since Congress will go on recess the week after.
The spending package lawmakers will craft for the next fiscal year will abide by a budget deal that President Donald Trump signed into law in early August that included a $320 billion increase for military and funding for domestic program over the next two years.
"This is a welcome development, and I will urge the Senate to take up this bill and pass it next week and allow the Committee more time to negotiate bipartisan bills to implement the bipartisan budget agreement reached in July," Sen. Patrick Leahy, D-Vt., ranking member of the Senate Appropriations Committee, said in a statement late Wednesday.
Negotiations, however, could likely become contentious as Republicans seek to help Trump fund his wall at the U.S.-Mexico border. The standoff over wall funding last year resulted in a 35-day shutdown that lasted into 2019, and an impasse over wall funding this fall will likely increase the chances of another shutdown in November.