Joe Biden says Trump has 'no intestinal fortitude' on guns, sees 'no compromise' with McConnell
Comments
By Alex Seitz-Wald and Mike Memoli with NBC News Politics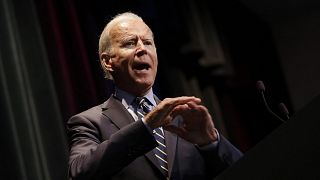 Copyright

Joshua Lott Getty Images file

-
CEDAR RAPIDS, Iowa — Joe Biden said Monday that he sees little hope for a compromise in Washington on guns, adding that President Donald Trump "has no intestinal fortitude" to follow though on his talk of pushing Congress to act in the wake of yet another mass shooting.
The former vice president has made his ability to work with Republicans a touchstone of his 2020 presidential campaign, but he told reporters in Iowa that guns will not be the place for that.
"I said I'll work with Mitch McConnell where we can agree. But on this one, he's not going to agree ... so we just have to beat him, flat out beat him," Biden said a Labor Day picnic in Cedar Rapids. "I think there's no compromise. This is one we have to just push and push and push and push and push. And the fact of the matter is, I think it's going to result in seeing some of them [Republicans] defeated."
Guns are an issue on the agenda for Congress when it returns to Washington this month after the August recess, but Biden said he's not holding his breath for action.
Part of the problem, he said, is that Trump has on several occasions voiced some support for new gun safety measures, only to backtrack later.
"I've seen nothing," he said of a possible solution in Congress this fall. "The president has no intestinal fortitude to deal with this. He knows better. His instinct was to say yeah, we're going to do something on background checks. What's he doing? Come on. This is disgraceful. This is disgraceful what's happening."
Biden has long positioned himself as a foe to the National Rifle Association and one of the few Democrats who has actually beat them, citing his work to pass the 1994 assault weapons ban that was attached to his controversial crime bill.
More recently, he joined with other 2020 presidential candidates in calling for a gun buyback program for assault-style weapons, which would ban future sales as well as attempt to eliminate some of the guns already in circulation.
Biden, however, believes the program should be voluntary while other candidates have called for it to be mandatory.
Saturday's mass shooting in Odessa and Midland, Texas, where seven were killed and 22 injured, has drawn attention to new state laws that took effect Sunday after being signed into law in June by Gov. Greg Abbott, that makes it easier to have guns in schools, government buildings and places of worship.
One law, for instance, prohibits local school districts from putting tough restrictions on how guns are stored in cars in school parking lots.
Biden slammed the new laws as "absolutely irrational" and in service to the "special interests" of the NRA and other pro-gun groups.
"We're talking about loosening access to have guns, be able to take them into places of worship, store them in school," Biden said. "I mean it's just absolutely irrational. It's totally irrational. It is just a bow to the special interests of the gun manufacturers and the NRA. It's got to stop."