Here's what we learned from this week's polls
Comments
By Chuck Todd and Mark Murray and Carrie Dann with NBC News Politics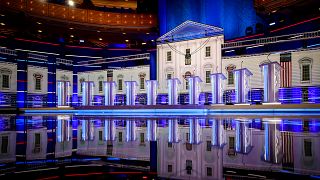 Copyright

Drew Angerer Getty Images file

-
WASHINGTON — Who knew the political world would be waiting on the results of two polls in late August?
But here we are.
And assuming that USA Today/Suffolk and Quinnipiac are the only qualifying polls released before today's deadline to make September's Democratic presidential debate, here's what we learned:
Tom Steyer didn't hit 2 percent in either poll — in fact, he was below 1 percent in both — which means there will be just 10 participants next month: Joe Biden, Bernie Sanders, Elizabeth Warren, Kamala Harris, Pete Buttigieg, Beto O'Rourke, Cory Booker, Andrew Yang, Amy Klobuchar and Julian Castro.
Because only 10 qualified — instead of 11 — there will be just one debate night in Houston, on Sept. 12, which means Biden, Bernie and Warren will all share the same stage.
The higher threshold to make September's debate (130,000 donors, hitting 2 percent in at least four polls) winnowed a field with some 20 candidates in half — to 10.
Money doesn't buy you love or participation in a presidential debate: Steyer has spent nearly $12 million for an opportunity to make the debate stage, while Kirsten Gillibrand (who also didn't make it) has spent more than $2 million.
Steyer and others still have a shot to make the October debate, since the qualifying polling period lasts from June 28 to two weeks before the debate - which gives them more time to make that debate stage.
Data Download: The number of the day is … nearly $12 million
Nearly $12 million.
That's the amount of money Tom Steyer's presidential campaign has spent in advertising as of yesterday — $10.3 million over the TV and radio airwaves, and another $1.6 million digitally over Facebook and Google, according to Advertising Analytics.
This includes a combined $3.2 million in Iowa, $2.2 million in New Hampshire, $2.5 million in South Carolina and $1.8 million in Nevada - all in an effort to qualify for the September Democratic debate.
(It shows you why Steyer performs better in early state polls rather than national polls.)
By comparison, here's the other candidate ad spending to date:
Trump: $4.1 million (all digital)
Gillibrand: $2.1 million ($1.7M over the airwaves, $400K digital)
Warren: $1.8 million (all digital)
Buttigieg: $1.7 million (almost all digital)
Harris: $1.7 million ($1.3M digital, $400K over the airwaves)
Biden: $1.1 million ($900K digital, $200K airwaves)
Where's the House Democratic oversight?
In the last 48 hours, we've learned that:
The Trump administration is pulling millions from FEMA disaster relief to pay for immigration detention space;
Trump has promised, in an effort to build his border wall/fence, that he will pardon any subordinates should they have to break the law to get it done quickly, per the Washington Post (a White House official says Trump was joking);
Attorney General William is planning to spend tens of thousands of dollars (of his own money) for a holiday party at Trump's hotel — benefiting Trump's business.
And Trump is planning to hold next year's G-7 summit at his Miami golf resort — once again benefiting his business.
And the Democratic response?
Well, House Speaker Nancy Pelosi tweeted about the millions of disaster-relief money headed to the border: "@realDonaldTrump's brazen theft of disaster relief funding to pay for an inhumane family incarceration plan is cruel — and doing so on the eve of hurricane season is stunningly reckless."
But the response to the other stories? We haven't heard much.
We get that Congress is on its August recess. Still, the lack of a coordinated response and a plan for action only seems to normalize this kind of behavior.
One of the frequent criticisms of congressional Republicans is that their silence/acquiescence only enables the president.
But here's the other side of the coin: What are Democrats doing to hold Trump accountable?
2020 Vision: Biden sports double-digit leads in two new polls
It sure does look like that Monmouth poll was an outlier, according to the two national polls released this morning:
Biden 32 percent
Warren 14 percent
Sanders 12 percent
Harris 6 percent
Buttigieg 6 percent
Yang 3 percent
O'Rourke 2 percent
Booker 2 percent
Biden 32 percent
Warren 19 percent
Sanders 15 percent
Harris 7 percent
Buttigieg 5 percent
Yang 3 percent
On the campaign trail today
Joe Biden, in South Carolina, holds town halls in Spartanburg at 11:45 am ET and Gaffney at 4:45 pm ET… Beto O'Rourke is in North Carolina… And several members of the field (Julian Castro, Cory Booker, Kamala Harris, Amy Klobuchar and Bill de Blasio) address and AFL-CIO convention in Las Vegas.
Dispatches from NBC's embeds
At a townhall in South Carolina, Beto O'Rourke was asked by a supporter of President Trump if O'Rourke's campaign was just about defeating President Trump and if there was "any actual evidence" that the president is a racist.
NBC's Jordan Jackson has O'Rourke's response: "I've talked about his repeated warnings of invasions of dehumanizing or attempting to dehumanize people by calling them animals - those are words he's used. Predators, killers, somebody mentioned shithole countries, which was his description of nations in Africa or wanting to have more immigrants from Sweden and Norway which he has also said. Or how about this: Four women of color dually elected by their constituents---he told them to go back to their country. When this is their country."
Amy Klobuchar spoke at the Iowa State Capitol, where she touched on the Johnson & Johnson settlement. NBC's Priscilla Thompson reports: "NBC asked Klobuchar if the landmark ruling went far enough. The senator said, 'What these companies did is horrific,' and that they were, 'playing with people's lives.' Klobuchar said the ruling is only the beginning and that she expects so see a 'national master settlement' similar to what happened with to the tobacco industry."
Tweet of the day
The Lid: Deep breaths
Don't miss the pod from yesterday, when we did a deep dive into the Monmouth poll (yes, THAT Monmouth poll.)
ICYMI: News clips you shouldn't miss
Boris Johnson is asking to suspend Parliament, which would cut the time members have to pass laws stopping a no-deal Brexit.
Trump wants a wall so badly that he has "told worried subordinates that he will pardon them of any potential wrongdoing should they have to break laws to get the barriers built quickly," according to the Washington Post.
AG William Barr has booked a personal holiday party costing $30,000 at Trump's Washington D.C. hotel.
NBC's Melissa Holzberg reports on how a Republican group is trying to elect more women to Congress — but they're not getting a hand from the NRCC.
Trump Agenda: It's more than just bedbugs
Trump's Doral resort has had some pretty significant health violations.
The Trump campaign is hitting Alexandria Ocasio-Cortez again, saying "This is our country, not theirs."
Deutsche Bank says it has some tax returns tied to Trump.
2020: Never say die
The candidates who will miss the debate stage aren't giving up without a fight.
Joe Biden says racism in America is a "white man's problem visited on people of color."
A former Republican governor in Kansas wants a primary challenge to Steve Watkins.
Kamala Harris won an important endorsement from a group that helps elect women.
Republicans are worried about a potential loss about NC-9.
The wife of a political consultant says her husband had an affair with Ilhan Omar.
The New York Times looks back at the legacy of the Tea Party.