A professor labeled Bret Stephens a 'bedbug.' Here's what the NYT columnist did next.
Comments
By Allan Smith with NBC News Politics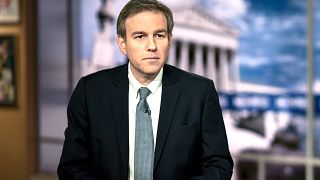 -
Copyright

William B. Plowman NBCU Photo Bank via Getty Images
On Twitter Monday afternoon, a George Washington University professor compared conservative New York Times columnist Bret Stephens to a bedbug after a Times editor had posted that bedbugs were spotted in its newsroom.
David Karpf's tweet, which read, "The bedbugs are a metaphor. The bedbugs are Bret Stephens," initially gained little traction. But Stephens took notice, and escalated his complaint about the tweet to Karpf's boss at the university.
"This afternoon, I tweeted a brief joke about a well-known NYT op-Ed columnist," Karpf wrote Monday night. "It got 9 likes and 0 retweets. I did not @ him. He does not follow me. He just emailed me, cc'ing my university provost. He is deeply offended that I called him a metaphorical bedbug."
The exchange went viral soon after, when Karpf posted Stephens' full email on Twitter.
"I'm often amazed about the things supposedly decent people are prepared to say about other people — people they've never met — on Twitter. I think you've set a new standard," Stephens wrote. "I would welcome the opportunity for you to come to my home, meet my wife and kids, talk to us for a few minutes, and then call me a 'bedbug' to my face. That would take some genuine courage and intellectual integrity on your part. I promise to be courteous no matter what you have to say."
"Maybe it will make you feel better about yourself," Stephens continued. "Please consider this a standing invitation. You are more than welcome to bring your significant other."
By Tuesday morning, with the ordeal becoming one of the highest trending subjects on Twitter, Stephens opted to delete his Twitter account.
"Time to do what I long ago promised to do," the columnist wrote. "Twitter is a sewer. It brings out the worst in humanity. I sincerely apologize for any part I've played in making it worse, and to anyone I've ever hurt. Thanks to all of my followers, but I'm deactivating this account."
Stephens, an MSNBC contributor, was then asked about the spat by network host Chris Jansing on the air Tuesday morning. Stephens said being compared to a bedbug was "dehumanizing" and "totally unacceptable."
"Analogizing people to insects is always wrong," Stephens said, adding there is a "bad history" of comparing humans to insects that "goes back to a lot of totalitarian regimes in the past."
The columnist added that he was not trying to get the professor in trouble by copying the university provost on his email, but said higher-ups at universities, businesses and major media outlets should be aware of how their employees interact online with others.
Stephens' commentary has long been a source of criticism among liberals, who have disagreed with his takes on free speech, climatechange and millennials. When Stephens was at The Wall Street Journal, he once wrote that anti-Semitism was "the disease of the Arab mind."
Stephens' exchange with Karpf was not the first time he has hit back at a critic over email. Karpf and Stephens did not immediately respond to requests for comment.