Conflict of interest: How Trump has used his office to benefit his business
Comments
By Chuck Todd and Mark Murray and Carrie Dann with NBC News Politics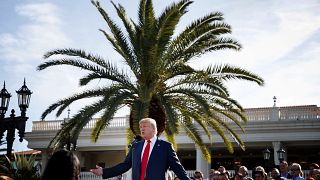 -
Copyright

Evan Vucci AP file
WASHINGTON — One clear theme over the past week, including at the G-7 summit, was President Trump's erratic behavior.
But here's another theme: How Trump has tried to use his presidency to make money.
The latest example was his defense on Monday of potentially hosting next year's G-7 summit at his Miami golf course.
"With Doral, we have a series of magnificent buildings, we call them bungalows, they each hold from 50 to 70 very luxurious rooms with magnificent rooms," Trump said, per NBC News. "We have incredible conference rooms, incredible restaurants, it's like such a natural. We wouldn't even have to do the work that they did here, and they've done a beautiful job, they've really done a beautiful job."
More: "And what we have also is Miami and we have many hundreds of acres so that in terms of parking, in terms of all of the things that you need."
And: "The ballrooms are among the biggest in Florida and the best, it's brand new. And my people wanted it."
One of the most constant themes of Trump's presidency is how he's used his office to benefit his business — whether it's the foreign dignitaries and business leaders staying at his DC hotel, his sons (who are running the Trump business but involved in his political affairs), or now this.
In 2012, the Obama campaign blasted Mitt Romney for prioritizing profits over American workers.
And for Democrats in 2020, isn't this also fertile ground — how Trump is trying to make money for his business? And at others' expense?
Trump advocates for Putin at G-7 summit — including behind closed doors
Also at the G-7 meetings… "President Trump capped days of advocacy on behalf of Russian President Vladimir Putin by announcing here Monday that he intends to invite the leader to the Group of Seven summit in 2020, which Trump will host in an election year amid warnings that Russia is actively trying to interfere again in the U.S. presidential election," writes the Washington Post.
More: "The leaders sat down Saturday evening for their first joint meeting — a dinner of Basque specialties at the foot of the landmark lighthouse of Biarritz. The meal started normally, with a discussion of the fires in the Amazon. It moved on to containing Iran's nuclear threat. But it went off the rails when Trump blasted leaders for not including Russia."
"Trump's message was that 'it doesn't really make sense to have this discussion without Putin at the table,' according to a European official briefed on the conversation among the leaders."
In 2014, the leading world economies kicked out Russia from the then-G-8 for infiltrating and then annexing Crimea.
Shakeup in the Dem race? Or steady as she goes?
On Monday afternoon, much of the political world got fired up over a Monmouth poll, which showed Joe Biden, Elizabeth Warren and Bernie Sanders in a three-way tie.
Then last night, the online Politico/Morning Consult poll had Biden up 13 points over Sanders and 18 points over Warren.
Our advice: Let's wait for another round of polling - especially after Labor Day - to see if the Dem race has really changed.
Because as we said yesterday, the Dem presidential contest - outside of Warren's steady climb and Kamala Harris' ups and downs after the debates - has been remarkably stable so far.
2020 Vision: Biden invokes family tragedies in new TV ad
Joe Biden's up with a new TV ad in Iowa discussing the importance of health care, especially regarding his family's tragedies, per NBC's Mike Memoli and Amanda Golden.
"I was sworn into the United States Senate next to a hospital bed. My wife and daughter, they'd been killed in a car crash. Lying in that bedroom, my two surviving little boys. I couldn't imagine what it would have been like if we didn't have the health care they needed immediately," Biden says in the ad.
"Forty years later one of those young boys, my son Beau, was diagnosed with terminal cancer and given only months to live. I can't fathom what would have happened if the insurance companies had said for the last 6 months of his life you're on your own."
The fact of the matter is, healthcare is personal to me. Obamacare is personal to me. When I see the president try to tear it down, and others propose replace it and start over, that's personal to me too. We have to build on what we did because very American deserves affordable health care. I'm Joe Biden and I approve this message."
On the campaign trail today
Beto O'Rourke remains in South Carolina, hold events in Johns Island, Columbia and Florence… Julian Castro stumps in Nevada… As does Cory Booker…. And Pete Buttigieg raises money in Los Angeles.
Dispatches from NBC's embeds
Beto O'Rourke made his first trip back to South Carolina since the El Paso shooting earlier this month. NBC's Jordan Jackson asked O'Rourke about his response to President Trump's climate change remarks at the G-7.
His response: "Investment in stormwater infrastructure, here in Charleston and other vulnerable communities to ensure the resilience is nothing compared to the expense of cleaning up after climate change has taken place, and we are no longer able to act against it so it's the right thing to do morally and it is certainly the right thing to do from a fiscal perspective and that's the kind of leadership that I want to provide."
Andrew Yang addressed women's reproductive health during a visit in New Hampshire. NBC's Julia Jester reports the blunt response: "On women's reproductive rights, Yang said he'd defer to the [female] experts: 'Male legislators can leave [the room] and you tell us what you decided.'"
Data Download: The number of the day is … 13
That's the number of announced exits of any type by House Republicans in the 2020 cycle, after Rep. Sean Duffy, R-Wis., said on Monday he was resigning from Congress effective September 23, because his child is expected to born with health issues.
Wisconsin's governor will have to call a special election to fill the seat.
So far, there have been 11 House Republicans who have announced they won't seek re-election, plus two others (including now Duffy) who resigned or are resigning from Congress.
By comparison, House Democrats have had three retirements this cycle.
Tweet of the day
The Lid: Value proposition
Don't miss the pod from yesterday, when we looked at how younger Americans' values compare to their parents and grandparents' generations (and how that's changed over the last 20 years.)
ICYMI: News clips you shouldn't miss
Farmers' frustration with Trump is starting to ramp up more as the trade war shows no signs of slowing down.
Here's Tom Cotton writing that the U.S. SHOULD buy Greenland, in a New York Times op-ed.
The White House had to clarify that Melania Trump has never met Kim Jong Un.
Another retirement at the FEC is further paralyzing the already-weak electoral watchdog.
Johnson & Johnson must pay $572 million for its role in the opioid crisis in Oklahoma, a judge ruled.
Trump Agenda: All figured out?
NBC's Shannon Pettypiece writes that world leaders may have figured out how to handle Trump.
Can Trump fight China while he's trying to expand the economy?
Trump says he's not profiting from the presidency, but that didn't stop him from giving a long advertisement for his Doral resort as a possible G-7 site.
A Maryland state senator says a tweet calling Ilhan Omar "illegal" wasn't from him.
Sen. Ron Johnson says he was denied a visa for a congressional visit to Russia.
Here's the latest onTrump v. Rouhani.
2020: Will it be Kennedy vs. Markey?
It looks like Joe Kennedy III isn't backing down from the idea of giving Ed Markey a primary challenge in Massachusetts.
Some voters are castigating Democratic candidates about their stances on impeachment.
Activists are speaking up about Joe Arpaio's latest campaign.
Sarah Sanders' new website looks a lot like one for a campaign.
Has Elizabeth Warren beaten the "Pocahontas" narrative?
A judgesays that Don Blankenship's conviction should be overturned.