Suburban House Democrats find hunger for action on gun control back home
Comments
By Leigh Ann Caldwell and Stefanie Cargill with NBC News Politics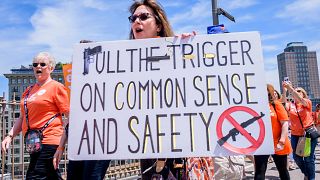 Copyright

Erik McGregor LightRocket via Getty Images file

-
HUNTLEY, Ill. — At a town hall meeting Thursday hosted by Democratic Rep. Lauren Underwood in this upscale, suburban community, the congresswoman's staff anticipated a healthy dose of questions about health care from the overflowing crowd of retirees.
Instead, she was peppered with queries about her stance on gun control and what Congress might do to stem a steady stream of mass shootings.
It was a similar scene north of Pittsburgh on Tuesday, at a town hall hosted by Democratic Rep. Conor Lamb in Allison Park, where voters lined up to express their concern about guns.
"I have a son who's a senior in high school. Since middle school they've been going through active shooter drills in the schools and that just makes me sick to my stomach," Ed Modaro said as he opened a question to Lamb. "I'd like to know why you support putting military style assault weapons in the hands of civilians," Ed Modaro asked Lamb.
In response, Lamb indicated that he doesn't support a ban on such weapons but argued that Congress must finish passing universal background checks.
The most recent spate of mass shootings, including in El Paso, Texas and Dayton, Ohio, have renewed focus on the nation's long-running debate over gun control. As House members like Lamb and Underwood have discovered during Congress' summer recess, they have also heightened voters' concerns and put increased pressure on lawmakers for solutions.
That pressure is being felt most acutely in the suburban districts that propelled Democrats' success in the 2018 elections and boosted the party to win control of the House of Representatives.
Underwood and Lamb were part of that wave of suburban Democrats and their 2020 re-election bids are expected to be key to both control of Congress and the outcome of the presidential race.
Polling shows that suburban voters, especially women, are increasingly concerned about the issue of guns and overwhelmingly support tighter gun regulations.
According to an NBC News/ Wall Street Journal poll from earlier this month, 94 percent of suburban women supported expanding background checks on all gun sales and transfers and 76 percent support the ban of selected semi-automatic firearms, known as assault weapons. Fifty-nine percent of suburban women are worried the government won't do enough to regulate firearms.
A poll of five suburban districts conducted by a GOP firm, the Republican Main Street Partnership, found that suburban woman were most interested in increasing gun safety, more than fixing health care or addressing immigration.
Former Republican Rep. Ryan Costello, who represented a district outside of Philadelphia but decided not to run for re-election in 2018, said that Republicans are loosing support in what had been reliable strongholds.
"We are now in a political environment of managing or trying to shrink vote deficits in many suburban areas, rather than them being reliably Republican strongholds," Costello said.
He noted that backing popular gun policy such as background checks or red flag laws is a good place for Republicans to make inroads with suburban voters.
"When suburban voters think of public safety concerns, most are thinking about gun safety, not caravans from Guatemala," Costello said.
Republicans, long opposed to most regulations of firearms, have so far shown little indication they are willing to do that. In the days after El Paso and Dayton, President Donald Trump said he supported expanded background checks for guns and urged Congress to consider red flag laws. But after conversations with National Rifle Association President Wayne LaPierre, he has since softened those pronouncements.
Underwood and Lamb are navigating the politics of their own districts, too. Democrats in Congress, aware of the polling supporting strong action on guns, have been putting pressure on Senate Republicans to voter on a measure that would implement universal background checks, legislation which has already passed in the House.
Lamb, who narrowly won a special election in 2018 and more comfortably won re-election in a newly redistricted district last November, has advocated for the universal background check bill passed by the House. But he would not commit to supporting other proposals, including red flag laws, which through a court order would remove a gun from someone at the request of a family member or friend.
"I think the most important thing we can do, based on our experience and based on the fact that it enjoys wide bipartisan support and is a strong majority American position, is to pass a universal background check bill," Lamb said.
Underwood went further. She also advocated for the House universal background check bill but added that a limit on magazine capacity is "important" and that a voluntary gun buy-back program should be an option.
As for a ban on assault weapons, which House Democrats haven't made a priority but are having discussions about, Underwood said she is having conversations with voters in her district about whether that should be on the table.
"I'm a little bit surprised that in this time, where the gun violence prevention efforts have reached, you know, their height in terms of public conversation, we're not necessarily hearing that proactive advocacy, about the assault weapons ban in my district," Underwood told NBC News in an interview after her town hall.
Democrats consider it good politics to point the blame at Republicans for inaction. Senate Majority Leader Mitch McConnell has refused to call the Senate back in session to pass the universal background check bill or consider other areas of gun control.
"I think that the Senate must come back and take up these bills. I don't see how it's an option, we are in a moment in our country where the American people are demanding action," Underwood said.