'Too bad!': Trump reacts to break-in at Cummings' Baltimore home
Comments
By Adam Edelman and Alex Moe with NBC News Politics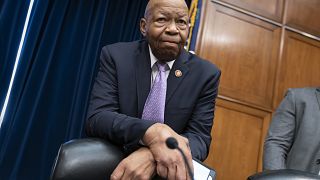 -
The Baltimore home of Rep. Elijah Cummings, D-Md., was burglarized over the weekend — a development that President Donald Trump, an aggressive critic of the Maryland Democrat, said Friday was "too bad."
"Really bad news! The Baltimore house of Elijah Cummings was robbed. Too bad!" Trump tweeted Friday morning.
Trump's tweet came less than 24 hours after a report from WJZ, the CBS affiliate in Baltimore, that Cummings' home had been burglarized early Saturday morning, hours before Trump launched a Twitter attack on the congressman.
A source familiar with the matter confirmed to NBC News Friday morning that Cummings' home had been broken into early Saturday morning.
A source in Cummings' office told NBC News that the burglary was a police matter and directed questions to the Baltimore Police Department.
The Baltimore Police Department said in a statement that Cummings' home was broken into at about 3:40 a.m. Saturday and that it wasn't clear whether any property had been taken.
Just hours later, on Saturday, Trump lashed out at Cummings and his Baltimore district on Twitter, calling the district "a disgusting, rat and rodent infested mess" and saying "no human being would want to live there."
Trump later tweeted that it was "So sad that Elijah Cummings has been able to do so little for the people of Baltimore."
After top Democrats and prominent Baltimoreans rebuked Trump's comments as "racist" and "disgraceful," Trump launched another round of attacks against Cummings on Sunday, calling him "racist," before reviving his criticisms of Baltimore once again on Tuesday.