After debate, Trump says Democrats would lead U.S. into 'economic sinkhole'
Comments
By Daniella Silva with NBC News Politics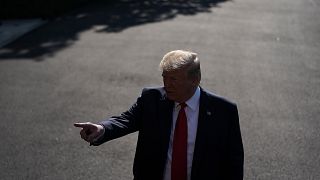 Copyright

Chip Somodevilla Getty Images file

-
President Donald Trump took aim Wednesday at the Democratic presidential candidates following night one of their second debate, saying his potential opponents in the 2020 election would lead the country "into an economic sinkhole."
Trump tweeted Wednesday morning that if he had not won the 2016 election, the United States would be in a "Great Recession/Depression."
The president added that the Democratic contenders on the debate stage last night, along with former Vice President Joe Biden, California Senator Kamala Harris and others, would "lead us into an economic sinkhole the likes of which we have never seen before."
"With me, only up!" he said.
The U.S. has experienced a decade of economic growth, following the end of the recession, much of that growth under the tenure of former President Barack Obama.
Trump followed up with another tweet, quoting Sen. John Kennedy of Louisiana as saying, "The lesser of two Socialists is still a Socialist!"
The remarks were Trump's firsts since the Tuesday night Democratic debate in Detroit, Michigan.
Sens. Bernie Sanders, I-Vt., and Elizabeth Warren, D-Mass., took center stage Tuesday night during the second Democratic debate along with eight other candidates. The two progressives defended their "Medicare for All" health insurance plan and other "bold progressive" policy changes against more centrist candidates.
The more centrist Democrats, including former Maryland Rep. John Delaney, argued such sweeping policies could turn off independent voters and lead to Trump's re-election.
Sanders has described himself as a Democratic socialist, while Warren has said she is a "capitalist to my bones" but supports a progressive policy agenda.
On Wednesday, front-runner Biden and Harris will face off against eight other candidates.