Fact checking the second Democratic debate, Night 1
Comments
By Jane C. Timm and Adam Edelman with NBC News Politics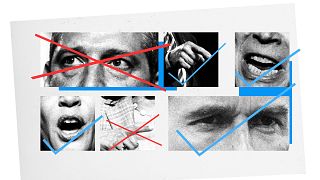 Copyright

Robin Muccari NBC News; Getty Images
Ready or not, the first 10 Democratic presidential candidates are geared up for the second round of presidential debates, taking place Tuesday night. As they defend their positions and attack their opponents' records at Detroit's Fox Theatre, NBC News is fact checking their claims in real time.
Check back here for which claims are true and false as the debate rolls on.
Did Amazon make billions and pay zero in federal taxes, as Bernie Sanders claimed?
Sanders opened with a broadside against Amazon. "Tonight as we speak right now, 500,000 Americans are sleeping out on the street, and yet companies like Amazon that made billions in profits did not pay one nickel in federal income tax," he said.
He's right, according to an analysis of corporate filings put out by the progressive think tank Institute for Taxation and Economic Policy (ITEP.)
The analysis did not review state and local taxes, however.
Did John Hickenlooper expand health care and reproductive rights as he claimed?
Hickenlooper said in his opening remarks that he "expanded health care and reproductive rights" when he was governor of Colorado.
This is true, but there's more to the story.
Hickenlooper is referring to the effects of the the Colorado Family Planning Initiative — a state program that provided IUDs or birth control implants at little or no cost for low-income women. But Hickenlooper would be hard-pressed to take all of the credit for it. The program was put in place in 2009 — two years before he took office.
Download the NBC News app for full coverage of both nights of the second Democratic debate.
When it comes to health care, Hickenlooper, using a provision in the Affordable Care Act, expanded Medicaid in Colorado to such a degree that, according to his campaign website, "95 percent of Coloradans have health care coverage."
A reputable survey in the state from 2017, the latest data published — the Colorado Health Access Survey —found that 93.5 percent of Coloradans had health insurance, an "all-time" high for the state because of the expansion.