Second Democratic debate: Everything you need to know
Comments
By Dareh Gregorian with NBC News Politics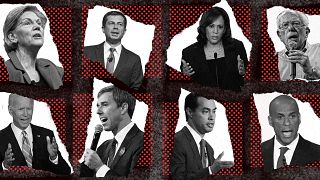 Copyright

Adrian Lam NBC News

-
The second of a dozen Democratic primary debates, set for Tuesday and Wednesday in Detroit, will feature a new face and old tensions that have simmered since the first official face-off between the candidates last month.
Here's what you need to know about this next event.
When and where is the second Democratic debate?
The debate, hosted by CNN, will take place on Tuesday, July 30, and Wednesday, July 31, at the Fox Theatre in downtown Detroit. The debate each night will start at 8 p.m. ET and last two hours. As before, each night will feature 10 candidates on stage.
Who qualified for the debate?
Sen. Michael Bennet of Colorado
Joe Biden, former vice president
Sen. Cory Booker of New Jersey
Gov. Steve Bullock of Montana
Mayor Pete Buttigieg of South Bend, Indiana
Julián Castro, former HUD secretary
Mayor Bill de Blasio of New York
John Delaney, former Maryland congressman
Rep. Tulsi Gabbard of Hawaii
Sen. Kirsten Gillibrand of New York
Sen. Kamala Harris of California
John Hickenlooper, former Colorado governor
Gov. Jay Inslee of Washington
Sen. Amy Klobuchar of Minnesota
Beto O'Rourke, former Texas congressman
Rep. Tim Ryan of Ohio
Sen. Bernie Sanders of Vermont
Sen. Elizabeth Warren of Massachusetts
Marianne Williamson, author
Andrew Yang, entrepreneur
Candidatesqualified for the debate by getting support from at least 1 percent of voters in at least three national polls or early state polls, or by raising money from at least 65,000 unique donors. Most qualified by meeting both criteria, but Bennet, de Blasio, Delaney, Hickenlooper, Ryan and Bullock qualified through polling only.
Bullock is the only candidate to make the stage who did not qualify for thefirst debate in Miami, which was hosted by NBC News, MSNBC and Telemundo. He replaces Rep. Eric Swalwell of California, who dropped out of the race following that event.
Who did not qualify?
Rep. Seth Moulton of Massachusetts; Mayor Wayne Messam of Miramar, Florida; former Sen. Mike Gravel of Alaska; former Rep. Joe Sestak of Pennsylvania; and billionaire Tom Steyer did not reach either the polling or fundraising thresholds.
How are the candidates divided over two nights?
The lineups were determined in three random drawings that aired live on CNN.
Night 1 includes Sanders, Warren, Buttigieg, O'Rourke, Klobuchar, Bullock, Ryan, Hickenlooper, Delaney and Williamson.
Night 2 includes Biden, Harris, Booker, Castro, Yang, de Blasio, Bennet, Gabbard, Gillibrand and Inslee.
Podium placement — who stands where — depends on publicly available polling numbers, CNN said. That means Sanders and Warren will share center stage on the first night, and Biden and Harris will share that same center spotlight on the second night.
What are the key matchups on both nights?
Night 1 features candidates who appeal to similar voters and will be trying to make their positions stand out. Sanders and Warren are both vying for progressives, while Buttigieg and O'Rourke have positioned themselves as the next generation of candidates.
Night 2 could well be the testier affair. Biden, the front-runner in the polls, has been fending off attacks from Harris and Booker while returning fire. De Blasio complained to reporters that Gillibrand had blocked him from appearing at a news conference last week celebrating the passage of a bill to fund the 9/11 victims' compensation fund, something he said was "unbelievable." Yang jokingly tweeted on Friday that he'd be training his fire on Bennet. "Sorry @MichaelBennet but you know what you did," he wrote.
How can I watch?
The debates will be aired live on CNN, and each night will be moderated by Dana Bash, Don Lemon and Jake Tapper. NBCNews.com will live blog both nights, offering live updates, fact checks and analysis.
When is round 3?
The third debate, hosted by ABC and Univision, will take place in Houston on Sept. 12, with a potential second night on Sept. 13. The field is expected to shrink for that debate because the requirements to make the stage are tougher. Candidates will have to show they've received donations from 130,000 different donors, including at least 400 from 20 different states. They'll also have to hit at least 2 percent in four different qualifying polls.